22 March 2006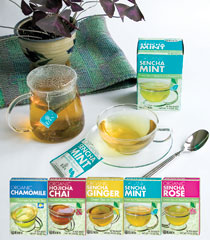 Clinton, Michigan - Eden expands its tea line with five NEW Organic Teas, one herbal tea and four that combine the finest Japanese organic green tea with organic herbs and spices.
Eden® Organic Chamomile Tea ~ 100% Organic Chamomile. Grown in Egypt, known for producing the world's finest chamomile flowers (Matricaria recutia). Flowers are harvested as soon as their blossoms open to capture this tea's golden color, delicate flavor, and irresistible aroma. Natural caffeine free.
Eden® Organic Hojicha Chai ~ Organic Hojicha (roasted green tea leaves), Organic Cinnamon Bark, Organic Cardamom Seeds, Organic Ginger Root, Organic Star Anise, Organic Roasted Chicory Root, Organic Cloves. Roasted green tea with aromatic spices from around the world, respectively Indonesia, Guatemala, India, Vietnam, France, and Madagascar. Delicious with Edensoy® Organic Soymilk.
Eden® Organic Sencha Ginger ~ Organic Sencha Green Tea Leaves, Organic Ginger Root. Ginger (Zingiber officionale) is organically grown in Tanzania, an historic ginger producing area, and expertly blended for a brew with piquancy and smooth undertones of green tea. An ancient Indian proverb holds that everything good is found in ginger.
Eden® Organic Sencha Mint ~ Organic Sencha Green Tea Leaves, Organic Spearmint Leaves, Organic Peppermint Leaves. Mint varieties chosen for their exceptionally high levels of menthol, (a volatile oil responsible for mint's cooling effect) are organically grown, hand harvested, and naturally dried on a small farm in northern Egypt. Blended with the finest Japanese spring tea leaves (sencha).
Eden® Organic Sencha Rose ~ Organic Sencha Green Tea Leaves, Organic Rosehips, Organic Rose Petals. Rosehips (Rosa damascena) organically grown in Bulgaria's world famous Valley of the Roses. Delicate rose petals organically grown in the Dades Valley, another famous rose growing region in the Atlas Mountains of Southern Morocco. Blended with the world's finest sencha.
All Eden green teas come from the Nagata family tea plantation near Uji, the most famous and beloved tea producing area near Kyoto. Uji's rich, slightly acidic soil is ideal for growing tea. Early morning mist from the Uji River moistens the leaves of the plants and shields them from the sun. Flowing with the contours of the valleys and surrounding hills, Uji's landscape is quilted with tea fields.
Following an agricultural method known as nature farming, the Nagata family has produced organic tea without chemicals since 1974, replenishing their topsoil with vegetable quality compost. They let their tea bushes develop naturally without uniform pruning. While chemically treated tea bushes usually burn out after 20 years, Nagata bushes often produce for 40 years, some as long as 100 years.
Over the past decade green tea has been the focus of research that affirms its healthful properties: Antioxidants such as tannins, flavonoids, and epigallocatechins gallate (EGCG), collectively referred to as 'catechins'. These compounds account for up to 40 percent of green tea's dry weight.
True teas all stem from the same plant, Camellia sinensis , and they become green, black, or other types of tea depending upon how they are cured and processed. As soon as the leaves are picked they begin to oxidize. Chinese teas and English black teas allow this to continue as they dry, but with Japanese green tea the oxidation is skillfully halted with a steaming and rubbing process and then carefully controlled. Herbal teas are not 'true' teas but rather, infusions.
Eden Organic Tea in 16 count boxes are packaged in a thoughtful way. The manila fiber bags are oxygen washed (not chlorine bleached), and they are crimp sealed with a 100 percent cotton string, no plastics or glues. Each tea bag is individually wrapped in moisture proof, easy to open paper envelopes.
Eden Organic Tea boxes now come in 9 SKU's in addition to the five mentioned above, Sencha (formerly Bancha), Hojiicha, Genmaicha (sencha with roasted brown rice), and Kukicha (twig tea). All boxes have been updated with educational information and can be merchandised either vertically or horizontally. Eden Loose Organic Sencha and Kukicha also come in easy to display, newly designed standing resealable pouches. All Eden Tea is

kosher parve.
---
Eden means no irradiation, no preservatives, no chemical additives, no food colorings, no refined sugars, no genetically engineered ingredients; just the safest, most nutritious, certified organically grown food that can be found. More than 260 Eden foods are available at discerning retailers in the U.S.A. and Canada. For more information, or if you would like our email for press releases, please call 800 248-0320, email us at cs@edenfoods.com or visit www.edenfoods.com. Retailers and Co-ops please go to access.edenfoods.com.