25 August 2005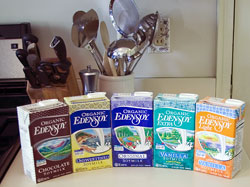 Clinton, Michigan - America's first and most nutritious soymilk has been improved.
The New Edensoy is all one would expect from the Original with refinements in taste and appearance, a smoother cleaner pour, and bright new packages with crucial facts and a recipe on each container, unmistakably new.
The improvements come from engineering updates to processing equipment, in addition to recipe adjustments. First introduced in July 1983, this is Edensoy's first modernization. Adding headspace by using a quart fill instead of a liter solves the tendency of spills on the first pour. Edensoy is now lighter in color with a very noticeably improved taste. In all varieties, sediment is reduced by at least two thirds.
Instead of organic naturally malted corn and barley, the unrefined malt sweetener is now naturally malted organic wheat and barley to avoid GEO corn beyond the shadow of a doubt. Edenblend® and Unsweetened Edensoy remain wheat and gluten free. Recipe adjustments did not modify the nutritional profile of any flavor.
As always, all of Eden Foods' beans and grain are U.S.A. or Canadian family farm organically grown, including all those in Edensoy. We know personally all of our growers and visit their farms, fields, and families regularly. Ingenious organic methods, over decades, have created living, nurturing soil that produces strong food brimming with vital energy and superior nutrition and taste.
Edensoy is made using the finest ingredients that can be found, 240 continuous quality control checks, and decades of research into how to best cook soy protein. From the double reverse osmosis purified water, to the skillfully engineered soy cookers, the Swedish designed aseptic packaging and capping equipment, etc., our every choice contributes to superb quality, superior nourishment, and delicious flavor.
Edensoy is organic natural nourishment providing the highest quality soy protein and a whole spectrum of balancing nutrients including naturally occurring essential fatty acids (EFAs) and phytonutrients. It contains zero soy protein isolate, genetically engineered organisms (GEOs), flavor maskers, or imitation vanilla. Edensoy's mellow unrefined sweeteners have a much lower glycemic index than refined sugar (a.k.a. 'evaporated cane juice').
Vanilla Edensoy (Original, Extra, and Light) contains only pure vanilla extract, the only natural 'vanilla' in the world. Every other vanilla flavored soymilk that Eden can find contains imitation vanilla, common name vanillin, a by-product of paper milling often listed on labels as Natural Vanilla Flavor, sometimes "with Other Natural Flavors". Pure Vanilla Extract is labor intensive, a complexity, and the best will be aged for two years. Pure Vanilla Extract has at least 250 flavor and aromatic compounds that delight us, not the one chemical vanillin, 4-hydroxy-3-methoxybenzaldehyde. The new Vanilla Edensoy contains only this real vanilla, as always. Other Edensoy flavors are also the same high quality, including real carob (St. John's bread) and the fair trade organic pure cocoa powder in Chocolate Edensoy.
Soybeans have been an important human food for over 5,000 years. Recently, Western science has begun to identify the components in soy responsible for its apparent ability to help prevent heart disease, osteoporosis, and certain cancers, to ease symptoms of menopause, and to help alleviate pain. In 1999 the FDA recognized the role of soy protein for reducing cholesterol, saying a diet rich in soy protein and low in saturated fat may help reduce the risk of heart disease. Nutritionists agree that food made from whole organic soybeans, as is Edensoy, provides the most potent health benefits.
Edensoy comes in ten varieties, in 32 ounce and 8.45 ounce shelf stable containers, refrigerate after opening, in U.S. and Canadian labels. All Edensoy is certified organic and k kosher parve.
---
Eden means no irradiation, no preservatives, no chemical additives, no food colorings, no refined sugars, no genetically engineered ingredients; just the safest, most nutritious, certified organically grown food that can be found. More than 260 Eden foods are available at discerning retailers in the U.S.A. and Canada. For more information, or if you would like our email for press releases, please call 800 248-0320, email us at cs@edenfoods.com or visit www.edenfoods.com. Retailers and Co-ops please go to access.edenfoods.com.