1 June 2005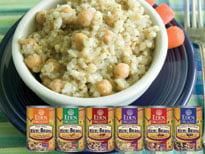 Clinton, Michigan - Eden Foods has developed a line of delicious, convenient 'heat and serve' entrees. They are Organic Rice & Beans in a can.
Eden Organic Rice & Beans are made from USA family farm organically grown, award winning beans and the finest organic Lundberg® short grain brown rice seasoned with all organic vegetables, herbs, and spices, and a bit of the finest sea salt. There are six flavors:
Eden Organic Rice & Beans are low fat, low sodium, and saturated fat free. Each is a good source of magnesium and provides eight to sixteen percent daily value of high quality dietary fiber per serving. Eden Organic Rice & Beans are expertly prepared at Eden's certified organic and kosher, Meridian Foods cannery in Eaton, Indiana. Eden selected organic beans are soaked overnight and blanched, combined with the brown rice, organic seasonings, and a bit of Eden Sea Salt, and cooked to perfection with purified water.
Whole grain and beans are Nature's most important nutritional duo. Beans are a valuable source of two essential amino acids not found in cereal grains, lysine and threonine. In turn, whole grains complement beans and together deliver complete protein with all essential amino acids, together with a full spectrum of important antioxidants, vitamins, and minerals. Beans and whole grain provide slowly released energy. This satisfies hunger longer and helps us to lose weight and maintain optimal health.
Beans and whole grain may help to prevent heart disease, cancer, and type 2 diabetes. According to scientists at the USDA Human Nutrition Research Center at Tufts University, "Whole grains help regulate blood sugar by slowing down the conversion of complex carbohydrates into sugar. In fact, low-glycemic index foods such as whole grains reduce hunger and can help to control weight." Scientists at the Agriculture Research Service recently completed a study of more than 2,000 people concluding, "at least three or more servings of whole grain foods everyday could reduce the chances of developing metabolic syndrome - a condition marked by a combination of abdominal obesity, high blood pressure, poor blood sugar control, low HDL 'good' cholesterol, and high blood fats." According to the FDA, "Diets rich in whole grain foods and other plant foods and low in total fat, saturated fat, and cholesterol, may reduce the risk of heart disease and some cancers."
The 2005 Dietary Guidelines for Americans for the first time emphasize the importance of whole grain and distinguish between whole and refined grain. Eden Rice & Beans are a convenient way to include more whole grain in your diet. Just heat, stir, and serve. Add vegetables for a complete meal, or get creative with your own recipes and seasonings. Eden cooks it all perfectly, so you don't have to.
Eden Organic Rice & Beans come in 15 ounce cans, 12 to a case. We suggest a retail price of $1.89. They are

kosher, too.
---
Eden means no irradiation, no preservatives, no chemical additives, no food colorings, no refined sugars, no genetically engineered ingredients; just the safest, most nutritious, certified organically grown food that can be found. More than 260 Eden foods are available at discerning retailers in the U.S.A. and Canada. For more information, or if you would like our email for press releases, please call 800 248-0320, email us at cs@edenfoods.com or visit www.edenfoods.com. Retailers and Co-ops please go to access.edenfoods.com.