6 May 2005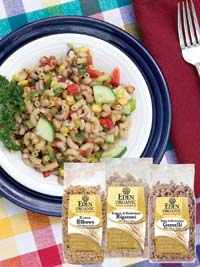 Clinton, Michigan - Eden expands its offering of heart healthy 100 percent whole grain organic pasta with three new offerings: Kamut Elbows, Spelt & Buckwheat Gemelli, and Kamut & Buckwheat Rigatoni. Each is made from grain grown on USA family farms by those committed to building vital soil, cleansing the environment, and producing delicious and nutritious food.
The grain is freshly ground at Eden's Clinton, Michigan mill. The pasta is small batch crafted at the Eden Organic Pasta Company in Detroit using patient, traditional methods and vintage Italian equipment. The three new pastas are extruded through artisan brass dies and slowly, inside out dried using steam and air to create the ideal texture and flavor. Eden's mill, the Eden Organic Pasta Company, Eden's warehouses, Meridian Foods bean cannery, and our Clinton production lines are all rated 'Superior' by the American Institute of Baking (AIB). This is the highest possible achievement in food safety and sanitation programs.
Eden Organic Kamut Elbows are the classic 'macaroni' curved shape, a delicious whole grain improvement of an American family favorite. Kamut ( Triticum turanicum, or T. turgidum ) is the Egyptian word for wheat meaning 'soul of the Earth'. Its origin dates back over six thousand years. It is a distant relative to modern durum wheat, with golden kernels about three times the size of modern wheat. Kamut's dense nutritional profile explains its reputation as a high-energy food. Made from 100 percent whole grain organic kamut flour, Kamut Elbows promote cardiovascular health. They are an excellent source of dietary fiber and protein, and provide thiamin (vitamin B1), niacin (vitamin B3), iron, magnesium, and zinc.
Eden Organic Kamut Buckwheat Rigatoni are two delicious whole grains shaped into large, ridged tubes that are ideal for casseroles, pasta salads, and holding generous amounts of sauce. A n ancient health food with warming and soothing energies, buckwheat ( Fagopyrum esculentum ) adds flavor and health benefit. In addition to superb protein providing all essential amino acids, buckwheat is rich in the bioflavonoid rutin, a nutrient known to strengthen capillaries. Kamut Buckwheat Rigatoni are an excellent source of dietary fiber and magnesium. They provide protein, thiamin (vitamin B1), niacin (vitamin B3), iron, and zinc, and promote cardiovascular health.
Eden Organic Spelt Buckwheat Gemelli are two wholesome grains shaped into a bite sized 'twist' that's wonderful as is, in soups, or with sauce. Also known as dinkel in Germany and faro in Italy, Spelt ( Triticum spelta ) is an ancient and distant cousin of modern wheat. The twelfth century healer St. Hildegard wrote about spelt, "It produces a strong body and healthy blood for those who eat it and it makes the spirit of man light and cheerful." Spelt and Buckwheat Gemelli are an excellent source of magnesium. They provide dietary fiber, protein, thiamin (vitamin B1), niacin (vitamin B3), iron, and zinc, and promote cardiovascular health.
The 2005 Dietary Guidelines for Americans for the first time emphasize the importance of whole grain and distinguish between whole and refined grain. Eden Pastas make it easy to meet the Guidelines' recommendation for consuming three servings of whole grain each day with unrefined whole grain offerings that provide much higher protein, up to four times the fiber, potassium, zinc, magnesium, and a whole spectrum of trace minerals, antioxidants, and phytonutrients not found in commercial pasta.
The three new Eden Organic Pastas come in 12 or 14 ounce packages, 6 packages to a case. The suggested retail price is $2.99. They are

kosher parve.
---
Eden means no irradiation, no preservatives, no chemical additives, no food colorings, no refined sugars, no genetically engineered ingredients; just the safest, most nutritious, certified organically grown food that can be found. More than 260 Eden foods are available at discerning retailers in the U.S.A. and Canada. For more information, or if you would like our email for press releases, please call 800 248-0320, email us at cs@edenfoods.com or visit www.edenfoods.com. Retailers and Co-ops please go to access.edenfoods.com.