10 August 2020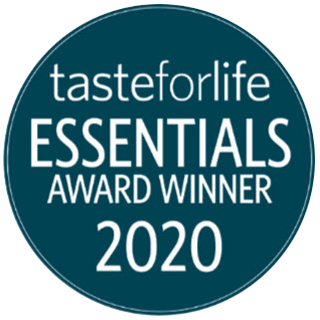 Taste for Life magazine honors EDEN Baked Beans as an Essential Pantry Staple. Likewise, EDEN Quiet Moon Pocket Snack as a Back-to-School Essential, in their August issue.
"Eden Foods Organic Baked Beans w/ Sweet Sorghum helps you put heart-healthy food on the table quickly. In addition to great taste, you get high levels of fiber, iron, magnesium, and other key nutrients," says Taste for Life.
"Going back to school will be a lot different for most kids this year, with remote learning, social distancing, and teachers (and parents) stretched to their limits. Students will need all kinds of support to stay sharp and engaged. Our staff has sampled a full range of products that are sure to help! Quiet Moon Pocket Snacks, Seeds & Dried Fruit from EDEN Foods are packed with organic pumpkin seeds, almonds, raisins, and dried tart cherries," says Taste for Life.
EDEN Baked Beans are unique, soaked overnight and pressure cooked at Eden's cannery with all organic sweet sorghum syrup, tomato purée, stone ground brown mustard, onion, clove, cinnamon, and EDEN Sea Salt. No chemical additives. Better tasting and easier to digest. Low sodium,

, Gluten Free, Non-GMO, and in a BPA, BPS, and phthalate free can.
EDEN Quiet Moon Pocket Snacks – a serving of roasted organic pumpkin seed, raw organic sunflower seed, roasted organic tamari almonds, California organic raisins, and dried Montmorency tart cherries. A chewy, sweet-tart snack mix. School, travel, outdoor activities, work, or on errands, very low sodium,

, and Gluten Free, Non-GMO. []
---
Eden Foods is a principled natural food manufacturer of organic, traditional, pure food for the pantry. More information and many free recipes are at
www.edenfoods.com
Retailers, Institutions, and Co-ops, please visit at
store.edenfoods.com
. Press inquiries to
press@edenfoods.com