6 May 2005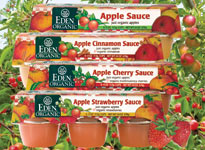 Clinton, Michigan - Eden expands its offering of antioxidant rich North American family farm organically grown fruit with new Organic Apple Sauce in single serve cups. There are four ever popular flavors:
Each Eden Organic Apple Sauce is traditionally and patiently cooked without refined sugar, synthetic processing aids, colorings, or artificial anything. Apples are hand sorted, washed, peeled, cored, and chopped into a stainless steel steam cooker where they're cooked into sauce and strained. Either blended or plain, they are packed in single serving cups. Each flavor comes in a six pack - six 4 ounce cups to a package with protective, easy peel lids.
Fat free, very low sodium, and low calorie, Eden Organic Apple Sauce cups need no refrigeration until opened and are great for breakfast, lunch, snacking, side dish, or dessert, in lunch boxes, briefcases, backpacks, and picnic baskets. Dollop some on oatmeal, pancakes, waffles, and muffins, add them to baked goods to moisten and enrich. Each delivers energy and satisfaction, and a full serving of wholesome organic fruit with potent health benefits including antioxidant / nutraceutical components.
Michigan State University researchers found that anthocyanins, natural anti-inflammatory compounds found in the Montmorency cherry are 10 times more potent than aspirin. Montmorencies contain at least 17 antioxidants in addition to anthocyanins, including melatonin, kaempferol, isoqueritrin and quercetin, and the potent anti-mutagenic compounds, allagic acid and perillyl alcohol.
The USDA Human Nutrition Research Center on Aging says strawberries are one of the top five antioxidant rich fruits, others place them in the top three. Researchers have found that strawberries are a rich source of anthocyanins, flavonoids, quercetin, kaempferol and ellagic acid. One study found that a person's antioxidant levels rise markedly within 30 to 60 minutes of eating strawberries.
University of California Davis food scientist Alyson Mitchell, Ph.D found great differences in fruit grown by various methods including 19 percent higher antioxidant levels in organically grown strawberries versus chemically grown. "I found that the higher levels of antioxidants is enough to have a significant impact on health and nutrition, and it's definitely changed the way I think about my food," she says.
New Eden Organic Apple Sauces come in 24 ounce packages (six 4 ounce cups), 12 packages to a case. The suggested retail price is $2.39 to $3.19.

kosher parve.
---
Eden means no irradiation, no preservatives, no chemical additives, no food colorings, no refined sugars, no genetically engineered ingredients; just the safest, most nutritious, certified organically grown food that can be found. More than 260 Eden foods are available at discerning retailers in the U.S.A. and Canada. For more information, or if you would like our email for press releases, please call 800 248-0320, email us at cs@edenfoods.com or visit www.edenfoods.com. Retailers and Co-ops please go to access.edenfoods.com.