6 December 2004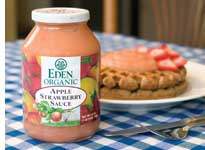 Clinton, Michigan - Eden expands its offering of American family farm organic fruit with new Organic Apple Strawberry Sauce, uniquely made solely of apples and strawberries.
Eden® Organic Apple Strawberry Sauce captures the aroma and flavor of small, northern Michigan organic strawberries in a delicious blend of organic apples. It is purely traditionally prepared without sugars, 'natural flavors,' or 'processing aids'.
The strawberries are harvested when just ripe and the stems and green leaves are removed by hand. They are washed, quick frozen, and shipped to our applesauce maker to be pureed. A select blend of apple varieties are hand sorted, washed, peeled, cored, and chopped into a stainless steel steam cooker where they're cooked into sauce. The sauce is then strained, blended with the organic strawberry puree and hot packed into glass jars. Our apple and apple cherry sauces are happy to have a new family member.
Eden Organic Apple Strawberry Sauce is fat free, sodium free, cholesterol free, and contains no preservatives or additives of any kind, just organic fruit. It provides 2 grams of dietary fiber per serving and is rich in important nutraceuticals.
Eden Apple Strawberry Sauce, rich in the taste and smell of strawberry, is a delicious and nourishing side dish, dessert, and perfect on pancakes and waffles. It also works very well in baking cakes, muffins, and cookies. Moisten and enrich!
The USDA Human Nutrition Research Center on Aging says strawberries are one of the top five antioxidant rich fruits, others rate it among the top three. Researchers have tested strawberries to rate their antioxidant capacity using a test called Oxygen Radical Absorbence Capacity (ORAC) and found that strawberries are rich in antioxidants, especially anthocyanins, the red in strawberries. A study by Dr. Gene Spiller of the Sphera Foundation showed that within 30 to 60 minutes of eating strawberries a person's antioxidant levels rose markedly. Once absorbed they scavenge free radicals, electrically charged compounds that cause many diseases including cancer. Strawberries contain protective phenols, especially ellagic acid that is only found in a handful of fruits.
Scientific research has found that apples and apple juice contain a wealth of phytonutrients that are beneficial to health. A study published in the American Journal of Epidemiology shows that flavonoid rich foods such as apples can reduce a person's overall cancer risk by 20 percent and lung cancer risk up to 46 percent. A recent Mayo Clinic study reported that the "powerful antioxidant, quercetin, found in apples and apple juice inhibited the growth of colon, liver and lung cancer cells." Mayo Clinic research also found that regular consumption of apples and apple juice may help reduce LDL cholesterol damage and protect against heart disease. Cornell University researchers reported in the journal Nature that apple components had more antioxidant capability than a 1,500 milligram megadose of vitamin C. "Scientists are interested in isolating single components, such as vitamin C, vitamin E, or beta carotene to see if they exhibit antioxidant or anti-cancer benefits," says Dr. Rui Hai Liu, at Cornell University. "It turns out that none of those work alone to reduce cancer. It's the combination of flavonoids and polyphenols [antioxidant nutraceutical phytonutrients in apples] doing the work."
In the Journal of Agricultural and Food Chemistry , University of California Davis food scientist Alyson Mitchell Ph.D says of a study she performed, "The results showed a significant increase in antioxidants in organic and sustainably grown foods versus conventionally grown berries. Sustainably and organically grown strawberries showed about 19 percent more antioxidants than conventionally grown strawberries. I found that the higher levels of antioxidants is enough to have a significant impact on health and nutrition, and it's definitely changed the way I think about my food."
Eden Organic Apple Strawberry Sauce is also

kosher parve and comes in 25 ounce glass, 12 to a case with a suggested retail price of $2.99.
---
Eden means no irradiation, no preservatives, no chemical additives, no food colorings, no refined sugars, no genetically engineered ingredients; just the safest, most nutritious, certified organically grown food that can be found. More than 260 Eden foods are available at discerning retailers in the U.S.A. and Canada. For more information, or if you would like our email for press releases, please call 800 248-0320, email us at cs@edenfoods.com or visit www.edenfoods.com. Retailers and Co-ops please go to access.edenfoods.com.