16 November 2004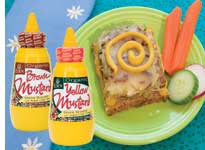 Clinton, Michigan - Eden Foods announces additional new packaging for Eden Organic Brown and Yellow Mustards now packed in glass; handy nine (9) ounce squeeze bottles with an easy twist open and close spout.
All Eden mustard seed is organically grown on family farms in the cool high plains of Montana and central Canada by those committed to building vital soil's finest ingredients create the tastiest mustard that can be made.
Whole organic brown mustard seed (Brassica juncea) is hammer milled into a stainless steel tank with pure water, Eden Organic Apple Cider Vinegar, and a bit of the finest Eden Sea Salt. After thorough blending the mixture is stone ground and aged for several days allowing it to meld and mellow. The result is spicy flavor with a hint of sweetness, the way real brown mustard is supposed to taste.
Eden Organic Yellow Mustard is organic whole yellow mustard seed (Brassica alba) prized for its mild heat and mellow sweetness. The seed is hammer milled into a stainless steel tank with pure water, Eden Organic Apple Cider Vinegar, Eden Sea Salt, and organic spices; turmeric, paprika, and garlic. The mixture is smoothly ground on a stone mill and rested for about 48 hours to allow the flavors to meld. The result is mildly spicy and sweet, a surprising return to olden days when all mustard was real.
Today's commercial mustards are made with inexpensive mustard bran or a combination of yellow seed and bran. Many contain artificial coloring agents, synthetic additives, harsh refined salt, refined sugar, cheap irradiated spices, and distilled vinegar derived from the petrochemical and coal tar industry. Even most other organic mustards are made with distilled vinegar and other less than perfect ingredients.
In refreshing contrast Eden mustards are made with Eden Organic Apple Cider Vinegar that contains 'mother', a visible mass of friendly bacteria present only in the finest unpasteurized raw vinegar. Eden's Sea Salt is from environmentally protected pristine saltwater marshes of Portugal and is triple sea water washed retaining valuable trace minerals. We use only the finest certified organic, non irradiated spices.
Mustard is a member of the cabbage (Cruciferae) family. It has been used as a healing herb throughout history and is considered to be one of the world's most ancient spices. In 500 B.C. the Greek mathematician and philosopher Pythagorus wrote of mustard's healing qualities and historians believe that mustard was widely used in China and Africa centuries earlier.
Thousands of folk remedies call for mustard to soothe and cure. It has a warming thermal quality and is thought to stimulate body energy and circulation. Researchers have found that several vegetables of the cruciferae family, including mustard greens, mustard seeds, daikon, horseradish, and wasabi (Japanese horseradish) contain sulfur compounds with antibacterial, antivirus, and anti fungal properties. Research at John Hopkins University in Baltimore found that the isothiocyanate compounds found in these foods protect the body by activating anti carcinogenic enzymes and suppressing cancer promoting enzymes in the liver. The natural tocopherols in mustard are potent antioxidants contributing to our good health and mustard's long shelf life.
Eden Organic Mustard can be used to make salad dressings, vinaigrettes, basting and barbecue sauces, gravies, and in potato salad and coleslaw.
In addition to the new 9oz squeeze bottles (12 to a case, $2.29 SRP), Eden Organic Brown Mustard is now available in the one gallon food service pack ideal for larger scale needs. Eden Mustard is certified organic and

kosher.
---
Eden means no irradiation, no preservatives, no chemical additives, no food colorings, no refined sugars, no genetically engineered ingredients; just the safest, most nutritious, certified organically grown food that can be found. More than 260 Eden foods are available at discerning retailers in the U.S.A. and Canada. For more information, or if you would like our email for press releases, please call 800 248-0320, email us at cs@edenfoods.com or visit www.edenfoods.com. Retailers and Co-ops please go to access.edenfoods.com.