14 June 2004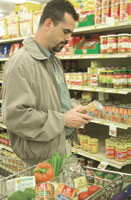 Clinton, Michigan - The world's largest men's magazine, Men's Health chose Eden Organic Refried Beans as the Best for Flavor and Nutrition in their June 2004 issue ("125 Best Foods for Men" pp158-165).
In the category "The Best of the Canned Food Aisle" Men's Health rated Eden Organic Refried Kidney Beans as Best Refried Beans, describing them as "smooth and well blended, without the lard that weighs down other varieties."
"There are more than 50,000 prepared foods for sale in U.S. supermarkets," Men's Health explains, "and with the help of our panel of nutritionists and ravenous taste-testers, we found the 125 best ones." Describing their methodology Men's Health writes, "First, we selected brands from national companies. Next, with the help of our advisory team, we determined each product group's best overall nutritional values, selecting five or fewer products per food category that met each set of criteria. Then we turned the list over to our experts. They further scrutinized each product's viability, determining which food was best purely from a scientific perspective. Meanwhile, we ate the foods ... we gave flavor the edge, having already weeded out each category's poor nutritional performers. The result: the best tasting and best-for-you foods available for guys."
In choosing Eden as the Best Refried Beans Men's Health was assisted by these experts: Alfred Bushway, Ph.D., professor of food science and human nutrition at the University of Maine; Dawn Jackson, R.D., American Dietetic Association spokeswoman and practicing dietician at Northwestern Memorial Hospital Wellness Institute; Carolyn O'Neil, R.D., practicing nutrition consultant in Atlanta, Georgia, and author of The Dish on Eating Healthy and Being Fabulous; Gary Riley, R.D., practicing private nutritionist in Dallas and author of The Pocket Trainer; Heidi Skolnik, R.D., nutritionist for the New York Giants and Men's Health weight-loss columnist; and D. Milton Stokes, R.D., clinical nutrition manager at New York City's North General Hospital and managing partner of Culinary Nutrition Consultants.
Eden Organic Beans are USA family farm organically grown, expertly prepared,

kosher certified beans, 23 varieties, 12 with no salt added, 5 seasoned and ready to eat, and 6 refried beans. All are high in, or an excellent source of fiber and provide a wealth of vitamins, minerals, phytonutrients, and antioxidants.
Eden Organic Refried Kidney Beans are a delicious puree of dark red kidney beans with chunks of whole bean, lightly salted with the finest sea salt and cooked without spices. Ideal in Mexican cooking and as a side dish, they are ready to heat and serve or add flair and 'heat' with your choice of seasonings. They are low in fat with zero saturated fat, cholesterol free, and an excellent source of soluble and insoluble dietary fiber, high in protein, potassium, iron, and magnesium. They come in 15 ounce cans (12 to a case), suggested retail $1.89.
Eden Organic Refried Beans were also rated as favorite by a panel of children and their parents in a taste test and product comparison sponsored by Child Magazine as reported in their article, "50 Healthiest Convenience Foods for Families" (Child February 2004 issue). "Many brands of refried beans go heavy on the fat and sodium," Child explained, "but Eden's dark red kidney beans have just 1g of fat and 180mg of sodium per half cup and plenty of fiber and potassium..." The same parent and child panel chose Eden Organic Pasta as favorites. Describing Eden Small Vegetable Shells, Child said "Sixty percent of the flour in these brightly colored mini shells is whole grain, so they pack plenty of fiber (4 grams per cooked cup) without the dense texture that usually turns kids off from whole wheat pasta."
---
Eden means no irradiation, no preservatives, no chemical additives, no food colorings, no refined sugars, no genetically engineered ingredients; just the safest, most nutritious, certified organically grown food that can be found. More than 260 Eden foods are available at discerning retailers in the U.S.A. and Canada. For more information, or if you would like our email for press releases, please call 800 248-0320, email us at cs@edenfoods.com or visit www.edenfoods.com. Retailers and Co-ops please go to access.edenfoods.com.