11 June 2004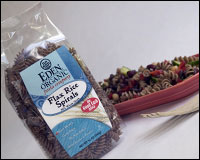 Clinton, Michigan - Eden Foods expands its line of traditionally made, certified organic whole grain pasta with NEW Organic Flax Rice Spirals.
Eden Organic Flax Rice Spirals are made from certified organic Golden Amber Durum Wheat, Flax Seed, and Brown Rice caringly grown by USA family farmers dedicated to building vital soil, cleansing the environment, and producing the safest, most delicious, more nutritious food. They are small batch crafted at the Eden Organic Pasta Company, a Detroit landmark using only traditional pasta making techniques and vintage Italian equipment since 1923. Freshly ground flour and flax seed meal are slowly kneaded with purified water. The dough is extruded through an artisan brass die and cut to length. The pasta goes through an initial hot steam dryer on screen trays to reduce moisture slowly and dry from the inside out. It stays in a drying room overnight and is packaged when perfectly finished.
Flax Rice Spirals are the newest of Eden's popular 60% Whole Grain pastas, an easy and delicious way to put more whole grain on the table and promote cardiovascular health. A blue label with a heart symbol and the words "Heart Healthy Whole Grain" distinguishes these 60% Whole Grain pastas.
Flax (Linum usitatissimum) grows in thin stalks about 3 feet tall, each topped with a delicate blue flower. Cultivated for at least 5,000 years, flax was treasured throughout history for its many uses and was likely the source of fine linens mentioned in the Bible. Its small, reddish brown oval seeds have long been valued as food and medicine. Today flax seeds are best known as the richest plant source of omega 3 essential fatty acids (EFAs). The organic flax seeds in Eden Flax Rice Spirals give this pasta its rich nutty flavor and its small amount of healthy fat with an ideal omega 3 to omega 6 ratio of 1 : 2.4.
Eden Organic Flax Rice Spirals are an excellent source of magnesium and thiamin (B1), and a good source of fiber, protein, iron, niacin (vitamin B3), and zinc. They also provide seven percent daily value of potassium per serving. As with all Eden Pastas, Flax Rice Spirals provide a higher daily value of protein than carbohydrates. In contrast, commercial pastas that lack organic whole grain have lower daily value of protein than carbohydrate.
Whole grain is the best source for complex carbohydrates, the 'good carbs' that break down slowly and provide long lasting energy. Fiber, the body's natural internal cleanser, can help lower LDL cholesterol and blood pressure. Diets rich in whole grain are linked to healthier weight management and lower risk of heart disease, cancers, and Type 2 diabetes. Whole grains contain all of the nutrients for their complete utilization and provide long lasting hunger satisfaction.
At Eden we make whole grain choices and don't need to enrich our flour because we haven't removed the nutrients from the grain. Eden Pasta has much higher protein, fiber, potassium, zinc, and magnesium, and a whole spectrum of trace minerals and phytonutrients not found in commercial pasta. Eden Organic Pasta offers dozens of satisfying ways to benefit from the world's best organic grain • Golden Amber Durum Wheat • Hard Red Spring Wheat • Kamut® • Quinoa • Spelt • Brown Rice • and • Rye in multiple shapes, colors, and flavors.
Eden Organic Flax Rice Spirals come in 12 ounce bags, six to a case, suggested retail price $2.99.

kosher certified.
---
Eden means no irradiation, no preservatives, no chemical additives, no food colorings, no refined sugars, no genetically engineered ingredients; just the safest, most nutritious, certified organically grown food that can be found. More than 260 Eden foods are available at discerning retailers in the U.S.A. and Canada. For more information, or if you would like our email for press releases, please call 800 248-0320, email us at cs@edenfoods.com or visit www.edenfoods.com. Retailers and Co-ops please go to access.edenfoods.com.