27 February 2004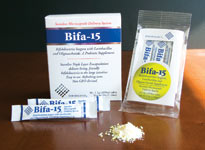 Clinton, Michigan - Eden Foods has improved the formulation of Bifa-15, a probiotic supplement to balance and strengthen utilizing a patented delivery system to introduce friendly Bifidobacteria to the large intestine.
The primary feature of Bifa-15 is a patented seamless micro encapsulation delivery system for Bifidobacteria. The tiny (1mm) seamless micro capsules are designed to deliver the bacteria safely and alive to the large intestine, their natural 'home address'. Bifidobacteria cannot survive stomach acid or oxygen. The capsules protect the bacteria from air, stomach acid, and provide additional protection from heat and light. They only release into the large intestine.
Each handy, easy to carry single dose tube of Bifa-15 contains two billion Bifidobacteria longum and, (this is what's new) one billion friendly lactic acid producing bacteria, Lactobacillus acidophilus and Enterococcus faecalis, also protected in micro capsules. The micro capsules are combined with refreshing granules of lemon oil oligosaccharides, and botanical essences that promote Bifidobacteria growth.
Bifa-15's exclusive micro capsule is the first of its kind. It is the result of decades of research and innovation by the 200 year old Morishita Jintan Company, a conscientious innovator of food science and nutrition.
In our intestines beneficial bacteria and harmful bacteria coexist. Friendly or beneficial bacteria strengthen our health, while unfriendly bacteria produce harmful substances like ammonia, hydrogen sulfide, and amines.
Bifidobacterium longum is considered to be the most important beneficial intestinal bacterium. Bifidobacteria are unique because they produce both acetic acid and lactic acid that suppress unfriendly bacteria by maintaining an acidic pH in the intestine. They also produce vitamins B1, B2, B6, B12, Biotin, folic acid, enzymes, and other nutrients. Lactic acid producing L. acidophilus and E. faecalis with granules of oligosaccharides, as in Bifa-15, help to increase the activity and longevity of Bifidobacteria longum and strengthen efficacy. This new combination greatly increases the value of Bifa-15 with no increase to its price. Probiotics are a critical factor in maintaining and strengthening good health, but only Bifa-15 provides the delivery system to the large intestines.
In all human beings, Bifidobacteria levels peak during infancy and steadily decline with age. Antibiotics and other drugs such as steroids, synthetic hormones, and over the counter medications, poor eating habits, alcohol, caffeine, and stress deplete Bifidobacteria and other friendly bacteria producing an environment that promotes the growth of harmful bacteria and disrupts the healthy balance of the intestinal flora. Studies have found a significant correlation between illness and depleted levels of Bifidobacteria, yet because these anaerobic bacteria are readily depleted by heat, stomach acid, and oxygen, it has been nearly impossible to effectively supplement with them... until Bifa-15.
To take Eden Bifa-15, open the tube at the dotted end and pour it into your mouth. The plant essences prompt saliva that allows an easily swallow of the capsules. Do not chew or take with hot liquids as this will damage the protective capsules. Bifa-15 can be taken at any time of day since the capsules protect the bacteria from acids activated by food. Follow all package instructions. Do not give Bifa-15 to infants or children under 3 years old.
Bifa-15 comes in boxes of 30 single dose tubes (10 boxes to a case) and packets of 3 single dose tubes (24 tubes to a case). It is available at www.edenfoods.com or by calling 888 424-Eden (3336). Bifa-15 now has improved shelf stability and does not require refrigeration (though it should be protected from intense heat, don't leave it in a hot car). A most economical and effective supplement. An ounce of prevention is worth a pound of cure.
---
Eden means no irradiation, no preservatives, no chemical additives, no food colorings, no refined sugars, no genetically engineered ingredients; just the safest, most nutritious, certified organically grown food that can be found. More than 260 Eden foods are available at discerning retailers in the U.S.A. and Canada. For more information, or if you would like our email for press releases, please call 800 248-0320, email us at cs@edenfoods.com or visit www.edenfoods.com. Retailers and Co-ops please go to access.edenfoods.com.