27 January 2004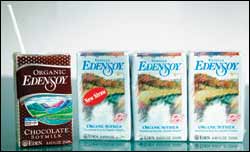 Clinton, Michigan - Eden Foods improves Edensoy with a new, user friendly, straw on its 250 ml (8.45 oz) aseptic drink boxes.
The new telescoping straws have been used on Edensoy drink boxes since late October 2003. Instead of the previously used straight straw on Edensoy, or the commonly used J straw, these new straws are two straight straws in one that 'telescope' into a long straw. The telescoping straws are hygienic and easy to use. Protected by a cellophane wrapper, they are attached with glue to the outside of the drink box. They easily pull off. The wrapping is perforated near the top of the straw so it's easy to unwrap and you don't touch the end that goes into the box. The small end is angled for insertion into a pre-punched hole on the top of the box. The straw expands to almost double the length of the previous straw making it much easier to enjoy every drop of Edensoy.
This telescoping straw is the most recent improvement to Edensoy and its packaging. Other improvements in recent years include the introduction of new varieties like Unsweetened and Chocolate Edensoy, and Edensoy Light, conversion of more ingredients to certified organic, constant measures to ensure that the soybeans and other ingredients remain GEO free, six packs of liters, and enhanced nutritional information.
Eden Foods enjoys an eighteen year relationship with the Swedish company Tetra Pak, inventors of commercial scale aseptic liquid food packaging. Edensoy's aseptic Tetra Paks keep it fresh without the need for refrigeration, saving tremendous amounts of energy in transportation, storage, and merchandising, greatly reducing greenhouse gas emissions. This packaging is ingenious; lightweight, recyclable, and ecologically sound.
Introduced July 1983, Edensoy was the first soymilk in America to be properly cooked for digestibility and nutrient absorption. Its success created the non-dairy, liquid food category now merchandised everywhere. The finest organic ingredients, reverse osmosis purified water, 240 continuous quality control checks, and years of research into how to best cook soy protein guarantees the best flavor, nutrition, and your satisfaction.
Edensoy is the only brand that offers a full line of authentic organically grown and produced soymilks. Edensoy Vanilla is the only vanilla soymilk made in America with real vanilla extract, all others use 'natural vanilla flavors' which we consider toxic. Commonly, other brands contain undeclared isolated soy protein, flavor maskers, stabilizers, and refined sugar (a.k.a. evaporated cane juice, brown sugar, high fructose corn syrup, organic sugar, etc.); and most are made with ingredients containing genetically engineered organisms (GEOs). Edensoy is the highest quality, is the most pure, and best affords peace of mind. Absolutely no shortcut is taken at any step in its creation. More Delicious, Most Nutritious.
The Eden® brand is your best assurance of freedom from genetically engineered organisms (GEOs) or their derivatives. A meticulous audit trail and tests at the farm, storage elevator, and maker guarantee the purity of Edensoy from seed to you.
Edensoy comes in 10 flavors (including Edenblend® organic rice and soymilk blend). Each is available in 250 ml (8.45 oz) drink boxes and one liter (33.8 oz) cartons. Each is third party certified organic, k kosher and parve.
---
Eden means no irradiation, no preservatives, no chemical additives, no food colorings, no refined sugars, no genetically engineered ingredients; just the safest, most nutritious, certified organically grown food that can be found. More than 260 Eden foods are available at discerning retailers in the U.S.A. and Canada. For more information, or if you would like our email for press releases, please call 800 248-0320, email us at cs@edenfoods.com or visit www.edenfoods.com. Retailers and Co-ops please go to access.edenfoods.com.