8 January 2004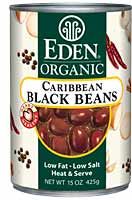 Clinton, Michigan - Eden Foods expands its line of seasoned, ready to eat organic beans with NEW Eden Organic Caribbean Black Beans.
Eden Caribbean Black Beans are organic black turtle beans cooked in a delicious sauce of mild tropical spices: organic dried onion, organic paprika, organic cayenne pepper, organic cumin, organic garlic powder, organic cinnamon, organic black pepper and a bit of our finest sea salt. Mildly spicy with subtle sweetness, they are ready to eat, just heat and serve. They're excellent with rice, quinoa, pasta, or vegetables, in soups, dips, and salsa.
Eden beans are organically grown in mineral rich, vital soil on family farms committed to a clean environment and the most nutritious, appealing food. Overnight soaking and expert cooking at Eden's own certified organic and kosher cannery make them perfect.
Eden Organic Caribbean Black Beans promote cardiovascular health as they are high in potassium and low in sodium. They are also low in fat with no saturated or trans fat and no cholesterol. They're an excellent source of soluble and insoluble dietary fiber, providing 28 percent per 4 ounce serving. They are high in protein, thiamin (B1), riboflavin (B2), iron, phosphorus, and magnesium.
Recent research shows black beans to be an especially rich source of antioxidants. Says Clifford Beninger, a former researcher for the USDA's Bean Research Unit, "Beans are really loaded with antioxidant compounds. We didn't know how potent they were until now. In general, darker colored seed coats were associated with higher levels of flavonoids, and therefore higher antioxidant activity." In a study scheduled to appear in a late December 2003 issue of the Journal of Agricultural and Food Chemistry, researchers tested the antioxidant activity of flavonoids found in the 12 common varieties of dry beans. They found that one class of compounds in particular, anthocyanins, were the most active antioxidants in beans. Beninger found that the levels of anthocyanins per 100 gram serving of black beans was 10 times the amount of overall antioxidants in an equivalent serving of oranges and similar to that found in grapes, apples and cranberries. Black beans were found to have more antioxidant activity, gram for gram, than other beans. Next were red, brown, yellow and white beans, in that order. Antioxidants have been found to destroy free radicals, whose excess has been linked to heart disease, cancer and premature aging.
Beans clearly reflect the soil they are grown in. Huge differences in vitamin and mineral content are seen when comparing beans grown in vital organic soil with those grown the chemical, commercial way. Eden has worked since 1968 to secure sources of organically grown beans, creating deep-rooted relationships with family farmers. The overall appearance, taste, and nourishment of Eden Beans begins with these dedicated growers, their constant care and vital, humus rich, decades organic soil.
Eden Organic Beans received the highest ranking for flavor and nourishment in the exhaustive comparison study of canned beans by the Center for Science in the Public Interest in their 'Nutrition Action Healthletter'. Their panel of experts praised Eden's great taste, high fiber, low fat, and low sodium, and gave special recognition to Eden's "delicious healthy seasoned beans that you can eat straight out of the can."
Eden Caribbean Black Beans are certified organic,

kosher and parve.
---
Eden means no irradiation, no preservatives, no chemical additives, no food colorings, no refined sugars, no genetically engineered ingredients; just the safest, most nutritious, certified organically grown food that can be found. More than 260 Eden foods are available at discerning retailers in the U.S.A. and Canada. For more information, or if you would like our email for press releases, please call 800 248-0320, email us at cs@edenfoods.com or visit www.edenfoods.com. Retailers and Co-ops please go to access.edenfoods.com.