22 June 2016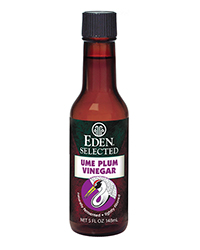 Clinton, Michigan – EDEN Ume Plum Vinegar just received Delicious Living magazine's 2016 Best Bite Award, selected 'Best Vinegar' in the vinegar category. This award is an affirmation of Eden Foods' purchasing criteria.
Delicious Living writes, "This traditional Japanese vinegar is made from the juice of pickled, pressed umeboshi plums and imparts a complex salty-fruity-sour flavor into everything ranging from fish to kale salads. Ume vinegar can be hard to find in the United States, but Eden's version is made simply and authentically with ume plums, shiso leaf, and sea salt."
EDEN Ume Plum Vinegar is the efficacious pickling brine from making umeboshi plums. It is known as ume su in Japan. Red beefsteak leaf, or shiso, imparts its ruby hue. As a tangy condiment it is delicious on steamed vegetables, cold bean salads, and adds appealing zing to salad dressings, marinades, hot sauce, salsa, and dips. It is excellent for making pickles and preserved foods. EDEN Ume Plum Vinegar contains no chemical additives or untoward ingredients whatsoever; no artificial coloring, preservatives, or processing chemicals, simply Pure & Purifying and

pareve.
EDEN Vinegars are bottled in dark amber glass to best protect nutrients, flavor, color, and value, capped with a pour/drip spout.
---
Eden Foods is a principled natural food manufacturer offering organic, traditional pure food that is superb pantry fare. Further information and many free recipes
www.edenfoods.com
Retailers, Institutions, and Co-ops, please visit
access.edenfoods.com
.