26 January 2016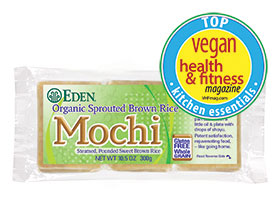 Clinton, Michigan – EDEN Sprouted Brown Rice Organic Mochi has received a Vegan Health & Fitness magazine 2016 Top Kitchen Essential award as announced in their first issue of 2016. Their acknowledgement shows experienced appreciation.
Vegan Health & Fitness wrote, "So we've selected your awesomely delicious Organic Sprouted Brown Rice Mochi as a winner of our Jan/Feb issue 2016 Top Kitchen Essential Awards!! Not only a powerful strengthening and rejuvenating whole, sprouted food, but so much fun to quickly heat up and incorporate into soups and stews as instant vegan dumplings, or simply thrown in the toaster oven for a delightful crispy chewy snack! LOVE that they're not only sprouted and bursting with enzymes and nutrition, but also shelf-stable and require NO refrigeration. Definitely a must-have healthy kitchen essential the whole family is sure to enjoy!"
EDEN Sprouted Brown Rice Mochi is painstakingly multi-step made of sprouted, steamed, and pounded certified organic 100% whole grain sweet brown rice. Quick cooking EDEN Mochi softens and puffs into moist, chewy cakes with a crisp crust from slow pan sizzling or when baked. Great as is or with a little shoyu, in miso soup, and it makes delightful waffles. No salt added. Gluten Free.

pareve.
---
Eden Foods is a principled natural food manufacturer offering more than 400 authentic, organic, traditional pure foods that are superb pantry fare. Further information and over 1,140 free recipes are at
www.edenfoods.com
. Retailers, institutions, and Co-ops, please visit us at
access.edenfoods.com
.