19 January 2016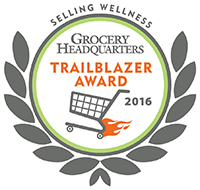 Clinton, Michigan – Grocery Headquarters again selects Eden Foods as a winner of the magazine's Selling Wellness Trailblazer Award for 2016. The January 2016 issue of Grocery Headquarters magazine announces this award.
Seth Mendelson, Publisher / Editorial Director, wrote, "On behalf of the GHQ editorial team and Board of Retailers, congratulations on your outstanding achievement of being named a winner of the 2016 Trailblazer awards."
Grocery Headquarters' 2016 Selling Wellness Trailblazer Awards recognize innovation within the wellness category and are designed to honor those companies and organizations that have had the most impact on the industry this year. Grocery Headquarters' editorial team used a number of criteria in reviewing candidates by selecting companies that value and exhibit a strong commitment to innovation, creativity, transparency, and sustainability in the main and special achievement categories are: Organic - Gluten Free - Functional + Specialty Foods & Beverages - Supplements - Personal Care - Household - Health - Pet Care - Superfoods, and - Homeopathy.
This is the sixth time Eden Foods has been awarded a Trailblazer Award by Grocery Headquarters. The five previous were for Quinoa, Chili, Edensoy, the brand as a whole, and Pocket SnacksPocket Snacks™. We are grateful for GHQ's discerning recognition.
---
Eden Foods is a principled natural food manufacturer offering more than 400 authentic, organic, traditional pure foods that are superb pantry fare. Further information and over 1,140 free recipes are at
www.edenfoods.com
. Retailers, institutions, and Co-ops, please visit us at
access.edenfoods.com
.