14 October 2015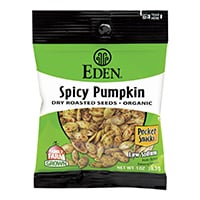 Clinton, Michigan – Organic EDEN Spicy Pumpkin Seeds received first place in Vegetarian Times 'Snack Aisle - Nuts & Seeds' category for 2015. A 'Readers Pick Foodie Award,' Vegetarian Times wrote that EDEN Spicy Pumpkin Seeds are "A perfect snack! The tamari-cayenne seasoning on these seeds gives them a nice kick."
Vegetarian Times explains their '100 packaged-food favorites' saying there is "No need to wander up and down supermarket aisles trying to determine which foods are the best choices for vegetarians or vegans - we did the work for you. VT staffers created a list of our favorite packaged goods based on flavor, texture, and ease of use. Then we asked you, our readers, to vote for your favorites in five supermarket-specific categories."
These dry roasted organic Pumpkin Seeds are Eden made in Michigan, misted with organic imported EDEN Tamari soy sauce, organic garlic, and organic cayenne pepper. They are simply delicious, energizing, and satisfying. A great snack for anytime including school, work, traveling, and running errands. A brilliant between meals pick-me-up, and popular hot-n-spicy food for parties. To use them as a garnish sprinkle on salads, pasta, vegetables, stews, and soups.
EDEN Spicy Pumpkin Seeds provide excellent protein, fiber, and magnesium and are low-sodium with only 75mg per serving. They provide healthy fats, good zinc and iron, are gluten free, and contain no additives whatsoever. They come in handy resealable 4 ounce pouches, and 1 ounce go-anywhere Pocket Snacks™.

---
Eden Foods is a 47 year principled natural food manufacturer offering more than 400 authentic, organic, traditional, pure foods. All are superb pantry fare. Further information and over 1,130 free recipes are at
www.edenfoods.com
. Retailers, institutions, and co-ops, please visit us at
access.edenfoods.com
.