25 April 2003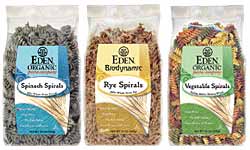 Clinton, Michigan - Eden Foods and the Eden Organic Pasta Company are happy to announce NEW labels for our most delicious and more nutritious Eden Organic Pasta.
Eden Organic Pasta introduces color coded labels making it easy to know the percentage of whole grain that each contains. Textured illustrations, pictures of grain, and health benefit bullet points provide a common visual bringing the three colors together for a pleasing display.
Eden's most nutritious pastas are 100% Whole Grain, labeled in GOLD. The gold color harmonizes with the pastas' deep richer color.
Eden's most popular pastas are 60% Whole Grain, labeled in BLUE. Blending 40% sifted flour (semolina or patent durum flour) gives Eden 60% Whole Grain Pasta a lighter texture with the whole grain goodness.
For those desiring the lightest organic pasta, Eden offers several made from the highest protein, patent durum flour and semolina. These are labeled in GREEN and are certified 100% organically grown and made.
There are six gold labeled Eden Organic Pastas, ten blue labeled ones, and ten that are green labeled. Eden Organic Pasta is made from the most sought after pasta making grain in the world: organic and biodynamically grown golden amber durum wheat, rye, kamut, brown rice, spelt and quinoa. The grain is grown on family farms committed to building vital soil, cleansing the environment, maintaining Nature's diversity. It produces the safest, most nutritious, and delicious food.
The Eden Organic Pasta Company is a Detroit landmark using only traditional pasta making techniques and vintage Italian equipment continuously since 1923. It was the first food production facility in North America to be third party certified organic. Starting with freshly ground grain and pure water, each batch of Eden Pasta is crafted with meticulous care. Traditional methods such as thorough kneading, careful folding and laminating of dough, artisan brass dies, and slow, steam/air drying create pasta of exceptional flavor, texture, and character.
Eden Organic Pasta comes in many shapes - spaghetti, ribbons, spirals, shells, gemelli, ziti rigati, rigatoni, and alphabets - some in a rainbow of colors from golden ribbons to earthy rye; green (spinach), orange (carrots), red (beets and sweet bell pepper) all organically grown. Some of the Eden Pastas are flavored with organic herbs.
Eden Organic Pasta provides the goodness of grain, a wealth of nutrients and living energy. Each is a good source of the highest quality vegetable protein and is low in fat with no salt added. Gold and Blue labeled Eden Organic Pastas are a good to excellent source of fiber and meets the FDA requirements for whole grain foods that may reduce the risk of heart disease and certain cancers. These pastas each have the words 'Heart Healthy' and a heart symbol featured on the front of the label.
Eden Organic Pasta is certified organic, k kosher and parve. The Eden Organic Pasta Company's food safety and sanitation practices have been rated Superior by the AIB third party inspection service for years.Whichever flavor, shape, or color you choose, Eden Organic Pasta will warmly satisfy, deeply nourish, and steadily energize.
---
Eden means no irradiation, no preservatives, no chemical additives, no food colorings, no refined sugars, no genetically engineered ingredients; just the safest, most nutritious, certified organically grown food that can be found. More than 260 Eden foods are available at discerning retailers in the U.S.A. and Canada. For more information, or if you would like our email for press releases, please call 800 248-0320, email us at cs@edenfoods.com or visit www.edenfoods.com. Retailers and Co-ops please go to access.edenfoods.com.