24 September 2015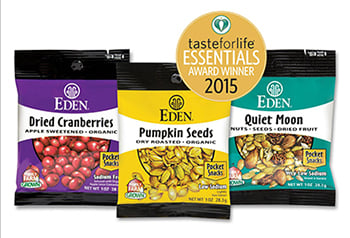 Clinton, Michigan – EDEN Pocket Snacks™ are honored by Taste for Life magazine with a 'Back-to-School Essentials' award in their 'Packables' category as announced in the September 2015 Taste for Life.
Taste for Life wrote, "Eden Pocket Snacks include a variety of satisfying treats in convenient, single serve packages." They are 1 ounce, easy to carry packages.
EDEN Pocket Snacks are the finest family farm and family orchard nuts, seeds, and dried fruits that can be found. There are nine varieties in single serve packets that easily go anywhere. Seven are certified organic - lowbush hand harvested • dried wild Blueberries • dried Cranberries • award winning Wild Berry Mix • dry roasted and lightly salted Pumpkin Seeds • organic garlic and cayenne Spicy Pumpkin Seeds • shelled Pistachios and • dry roasted tamari Almonds. The sweet tart, dried Montmorency cherries are transitional-to-organic, grown with zero chemicals • Quiet Moon mix is 88% organic with 12% Montmorency tart cherries.
All are great for school, work, camping, backpacking, travel, or when running errands. A variety of EDEN Pocket Snacks in the pantry allows for delicious, satisfying snacking, wherever and whenever.
EDEN Pocket Snacks contain no refined sugars or chemical additives whatsoever. All are Gluten Free, very low or low sodium,

, and Pure & Purifying™.
---
Eden Foods is a 47 year principled natural food manufacturer offering more than 400 authentic, organic, traditional, pure foods. All are superb pantry fare. Further information and over 1,130 free recipes are at
www.edenfoods.com
. Retailers, institutions, and co-ops, please visit us at
access.edenfoods.com
.