10 March 2015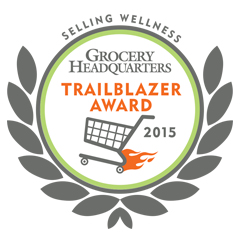 Clinton, Michigan – EDEN Pocket Snacks™ have been selected as a winner in Grocery Headquarters magazine's 2015 'Selling Wellness Trailblazer Award' in the 'Organic' category in their January 2015 issue. Grocery Headquarters wrote of EDEN Pocket Snacks, "One of Eden's more recent launches plays on the consumer demand for convenience — EDEN Pocket Snacks. These single-serve packets of dried fruit, nuts and seeds are available in nine varieties and make an ideal healthy, on-the-go snack for busy consumers. Eden Foods is the oldest natural and organic food company in the U.S., according to officials at the Clinton, Mich. - based company. Yet dozens of years after its inception, the company's mission has not wavered." EDEN Pocket Snacks contain the finest family farm and orchard nuts, seeds, and dried fruits that can be found. Dried Low-Bush Wild Blueberries, Dried Cranberries, Wild Berry Mix, Pumpkin Seeds, Spicy Pumpkin Seeds, shelled Pistachios, and Tamari Almonds are 100% organic. The Montmorency Cherries are transitional-to-organic, grown with zero chemicals. Quiet Moon mix is 88% organic with 12% Montmorency cherries. Each Pocket Snack is great for home, school, work, travel, camping, or whenever a snack is desired. Pure & Purifying™ EDEN Pocket Snacks contain no refined sugars, sulfites, or chemical additives. All are Gluten Free, Very Low or Low Sodium.

---
Eden Foods is a 46 year principled natural food manufacturer offering more than 400 authentic, organic, traditional, pure foods. All are superb pantry fare. Further information and over 1,125 free recipes are at
www.edenfoods.com
. Retailers, institutions, and co-ops, please visit us at
access.edenfoods.com
.