24 February 2015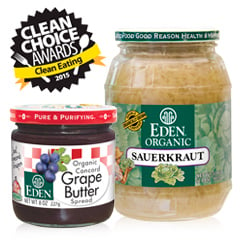 Clinton, Michigan – Organic EDEN Sauerkraut and EDEN Grape Butter were honored by Clean Eating magazine's 2015 annual 'Clean Choice Award' issue this March.
EDEN Sauerkraut was named in the Pickled / Fermented category and EDEN Grape Butter in the PB&J category. Clean Eating called EDEN Sauerkraut "Classy Kraut" and wrote, "Hand-harvested using old-world methods, this sauerkraut is made from only the freshest cabbage. Each glass jar contains organic cabbage, water and sea salt and nothing else."
EDEN Grape Butter's call out was "Rave Reviews" and they wrote, "We'd be remiss if we didn't award Eden's out-of-this-world grape butter; just a dab infuses any recipe or yogurt bowl with maximum fruity flavor. The whole Clean Eating crew went wild for this gem."
EDEN Sauerkraut is organically grown and traditionally made on a family farm in northern Ohio. Cabbage is hand harvested, cored, cut, lactic acid fermented, and aged with EDEN Sea Salt. Over eighty years of experience, time-honored methods, and one family's care and skill from the field to the jar, gives EDEN Sauerkraut its value and sought-after character.

pareve
EDEN Grape Butter is made from one ingredient, 100% organic Concord grapes from the Finger Lakes microclimate of northern New York. They are simply kettle cooked into thick, rich, spreadable butter with a deep purple color and sweet tart ambrosial flavor. It is superb grape butter, unlike any other.
---
Eden Foods is a 46 year principled natural food manufacturer offering more than 400 authentic, organic, traditional, pure foods. All are superb pantry fare. Further information and over 1,125 free recipes are at
www.edenfoods.com
. Retailers, institutions, and co-ops, please visit us at
access.edenfoods.com
.