11 November 2014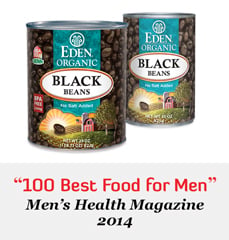 Clinton, Michigan – Organic EDEN Black Beans were again selected to be included in Men's Health magazine's annual November '100 Best Foods for Men' feature. This is the ninth time Eden Foods has been officially so honored by Men's Health.
EDEN Black Beans were selected as 'Best Canned Bean' in the 'Canned and Jarred Goods' category. Men's Health wrote of EDEN Black Beans, "Just a ½ cup delivers 6 grams of fiber. Add some to eggs and salsa for a Tex-Mex scramble." Speaking to the list of '100 Best Foods For Men' they say, "...defend your waistline with these primo picks, which we've judged using three criteria: protein content, fiber content, and number of ingredients (the fewer the better). Organic foods have an edge; and of course we taste-tested them all. Stock up. Stay lean."
EDEN Black Beans are U.S.A. family organically grown, soaked overnight, and thoroughly cooked at Eden's certified organic and kosher cannery with purified water. A creamy sweet, versatile bean; a favorite in the Americas, the Caribbean, and a Mexican staple. They are low fat, very low sodium with no added salt, a rich source of fiber, and a good source of protein, iron and magnesium. All EDEN canned beans - plain, seasoned, refried, rice & beans, and whole grain chilies contain zero additives or processing chemicals. They are the only canned foods offered in BPA, BPS, and PVC free lined cans. All are

pareve, many are Gluten Free.
---
Eden Foods is a 46 year principled natural food manufacturer offering more than 400 authentic, organic, traditional, pure foods. All are superb pantry fare. Further information and over 1,125 free recipes are at
www.edenfoods.com
. Retailers, institutions, and co-ops, please visit us at
access.edenfoods.com
.