15 October 2014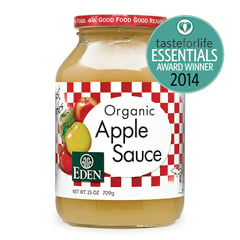 Clinton, Michigan – Organic EDEN Apple Sauce was selected by Taste for Life magazine as a 2014 'Gluten-Free Essentials Award' recipient as announced in the October 2014 issue. Taste for Life declared, "Eden Organic Apple Sauce is the perfect choice for healthy snacking."
Organic EDEN Apple Sauces are a blend of apple varieties organically grown on family owned orchards near the Great Lakes. This area is ideal for tree fruit because the seasonal lake effect mitigates frost and protects blossoms and fruit. Eden has worked with these families for over twenty years and has been directly involved in the conversion of their trees and orchards to certified organic. After many years of organic management these orchards produce some of the world's purest, tastiest, and most nutritious fruit.
Apples are hand-sorted, washed, peeled, cored, sliced, chopped, and slowly cooked into a pure, thick sauce with nothing but fruit or cinnamon added. Organic EDEN Apple Sauce is available in four flavors –
Organic EDEN Apple Sauce is packed in 25 ounce glass jars. Each of them is a flavor delight with great texture and a rare and pleasing sweet-tart balance. Gluten Free and

pareve.
---
Eden Foods is a 46 year, independent, principled natural food manufacturer offering more than 400 authentic, organic, traditional, pure foods. All are superb pantry fare. Information and over 1,100 free recipes are at
www.edenfoods.com
. We ask retailers, institutions, and co-ops to please visit us at
access.edenfoods.com
.