17 March 2003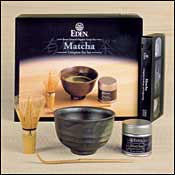 Clinton, Michigan - Eden Foods introduces new Organic Matcha (Powdered Green Tea) Sets, a complete way to experience the true, stone ground powdered green tea that is the essence of the Japanese tea ceremony.
The Eden Matcha Set, green tea powder and all the accoutrements, has everything needed to enjoy matcha's purifying and invigorating benefit.
Each Set contains:
Airtight 30 gram can of the highest grade (ceremonial) organically grown Matcha - stone ground green tea powder
Handmade glazed tea bowl
Handcrafted, 80 split, Whisk made from a single piece of bamboo
Bamboo tea scoop
12 minute VCR video - history, benefits, and how to
Eden Matcha is organically grown by farmers dedicated to cleansing the environment and producing the world's best green tea.
All true teas stem from the plant Camellia sinensis and become green, black, or other varieties depending upon how the leaves are handled and cured. Matcha is made from the first harvest of the tea plant. In early spring a canopy of reed netting is suspended above selected bushes, protecting them from the strongest rays of the sun. The most tender, delicate leaves are hand harvested in early May and immediately steamed. Steaming prevents oxidation and evenly disperses the chlorophyll throughout the leaves, preserving a beautiful green color and potent nutrients. The leaves are cooled and dried, then the stems, twigs, and leaf veins are culled out. Finally, the leaves are slowly ground into fine powder using small granite stone sets. It takes one hour per mill to grind 30 grams of Eden Matcha. Our maker has 1,500 of them and has been producing matcha in Japan since 1888.
Matcha originated in China where it was prescribed as an herbal remedy for a variety of maladies. Monks have used it for centuries for increased energy, calmness, and mental concentration during their hours of study and meditation. Modern research points to powerful antioxidant catechins; polyphenols, flavonoids, and tannins that account for about 40% green tea's weight. The University of Kansas found green tea's antioxidants to be 100 times more effective than vitamin C and 25 times more effective than vitamin E in protecting cells from free radical damage. Studies also indicate that green tea may reduce the risk of cancer, heart disease and stroke, improve dental health, inhibit bacterial toxins and influenza, improve digestive function, protect against ulcers, catalyze weight loss, and normalize blood glucose levels. According to natural health expert Dr. Andrew Weil, matcha is richest in these beneficial compounds and is the most effective way to experience the health benefits of green tea.
Matcha contains half the caffeine of brewed coffee, and research indicates that the tannins in green tea offset the effects of its caffeine.
Matcha is concentrated food, not just a beverage. Unlike leaf tea that is steeped in water and then discarded, matcha is completely consumed after whisking it in hot water. Matcha is a tonic that delights the senses, purifies the body, and lifts the spirit.
Eden Organic Matcha is usually served warm, but is also great with ice and a slice of citrus during hot weather. Try it in Edensoy®, in making cakes, homemade pasta, and green tea ice cream. Eden Matcha Sets can be found at discerning retailers, and ordered at edenfoods.com, or by phone toll free at 888 424-3336.
---
Eden means no irradiation, no preservatives, no chemical additives, no food colorings, no refined sugars, no genetically engineered ingredients; just the safest, most nutritious, certified organically grown food that can be found. More than 260 Eden foods are available at discerning retailers in the U.S.A. and Canada. For more information, or if you would like our email for press releases, please call 800 248-0320, email us at cs@edenfoods.com or visit www.edenfoods.com. Retailers and Co-ops please go to access.edenfoods.com.