9 November 2011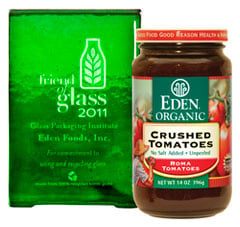 Clinton, Michigan - Eden Foods has been commended with a "Friend of Glass" award in the Best Friend of Glass category by the Glass Packaging Institute (GPI). The award was announced during 2011's Recycle Glass Month.
The institute wrote, "Through the Friends of Glass recognition, GPI honors those companies, organizations, and individuals making significant and innovative efforts to promote or participate in glass container recycling for bottle-to-bottle use. GPI Friends of Glass are honored in five categories: website, hospitality, industry, legislator, community or organization, and best friends of glass, or those companies which demonstrate loyalty to and promote the benefits of using and recycling glass."
Eden's "Friends of Glass" award was in recognition of a 2011 announcement about organic Eden crushed tomatoes and sauces being packed in protective amber glass. They are the only tomatoes in the U.S.A. packed in amber glass, protecting flavor and nutrients from light damage. The driving force at Eden for amber glass jars of tomatoes was the avoidance of bisphenol-A (BPA) in canned tomatoes.
Glass packaging is also used for all Eden organic fruit sauces, butters, and juices; condiments; soy sauces; and oils and vinegars. After thorough research, Eden chose glass as the most environmentally friendly and pragmatic of all packaging materials. Glass is made from three simple ingredients - sand, limestone, and soda ash. It can be recycled indefinitely without releasing polluting chemicals into the environment. Glass best protects freshness, flavor, and nutrients of food and beverages. Eden Foods has a company-wide commitment to reduce, reuse, and recycle.
---
Eden Foods is a principled 43 year independent manufacturer of natural food offering more than 250 authentic, organic, traditional,

, Pure foods. All are superb pantry fare. Information and over 1,000 free recipes are at
www.edenfoods.com
. Retailers, institutions, and co-ops, please visit us at
access.edenfoods.com
.