6 January 2003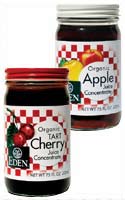 Clinton, Michigan - Eden Foods adds to its line of traditionally made fruit with NEW Organic Cherry Concentrate and Organic Apple Concentrate. Each is from fruit grown on family owned orchards tended by those committed to cleansing the environment and producing the safest most nourishing food.
Eden Organic Cherry Concentrate is made of organic montmorency tart cherry juice that is slowly evaporated. After harvesting the cherries are cleaned and quick frozen. Freezing allows a higher percentage of juice extraction. Thawed cherries are slowly pressed in a Swiss made Bucher press and then filtered. In a three step process the juice is run through small steam jacketed tubes and heated to reduce the water content and concentrate the cherry essence. The 68 Brix concentrate is then bottled in glass and sealed to preserve freshness, flavor, and nutrients.
Eden Organic Apple Concentrate is made from the juice of a blend of certified organic heirloom apples concentrated into a syrup. After harvesting the apples are washed, ground into mash and pressed in a Swiss Bucher press. The juice is lightly filtered to remove any pulp. In a three step process the juice is run through small steam jacketed tubes and heated to reduce the water content and concentrate the apple essence. The 70 Brix concentrate is then glass bottled.
Where Montmorency cherries have been grown for generations, the locals attest to their ability to ease symptoms of chronic aches and pains, arthritis, and gout. A study at Michigan State University was conducted to examine these 'folk medicine' claims. They found that anthocyanins and their anlyon cyanidin, natural anti-inflammatory compounds, found in the pigment of the Montmorency cherry is 10 times more potent than aspirin, without irritating the stomach or causing kidney damage. These compounds have the ability to inhibit two enzymes in the body that influence the production of the human pain hormone, prostaglandin. They also contain bioflavonoids that reduce the uric acid build up in the body associated with the pain and inflammation of arthritis and gout. Montmorency cherries are a powerful source of at least 17 antioxidants. The healing compounds in montmorencies include kaempferol, isoqueritrin, quercetin, anthocyanins, melatonin, allagic acid, and perillyl alcohol. A most natural and concentrated source of montmorency cherries, Eden Organic Cherry Concentrate is low in sodium and is a source of carbohydrate, potassium, protein, vitamin C, natural fruit sugars, calcium, and iron.
Besides being sodium free and a good source of antioxidants, Eden Organic Apple Concentrate is also a most natural and concentrated source of one of Nature's most potent healers. Dozens of recent scientific studies have found that apples contain a wealth of phytonutrients. Mayo Clinic research also found that daily consumption of apples and apple juice may help reduce the damage caused by LDL ('bad') cholesterol and protect against heart disease. The University of California, Davis Medical Center found that the antioxidants in apples and apple juice help slow the oxidation process in the body that produces plaque buildup leading to heart disease. Apple juice was found to be more effective than raw apples.
Unlike commercial concentrates, Eden Organic Apple and Cherry Concentrates are prepared without artificial sugars, genetically engineered enzymes, or artificial processing aids. No short cuts are used, and you can taste the difference.
Eden Organic Cherry Concentrate and Organic Apple Concentrate are easy to use. Simply add them to tea, water or sparkling water for delicious punch. They're delightful in smoothies, fruit aspics (kanten), desserts, pastries, sweet and sour sauces, glazes and confectionaries. Eden Concentrates can be stored in the refrigerator tightly sealed for up to three months after opening or in the freezer up to two years before opening. The concentrates will not freeze solid during storage.
All Eden fruit is certified

kosher.
---
Eden means no irradiation, no preservatives, no chemical additives, no food colorings, no refined sugars, no genetically engineered ingredients; just the safest, most nutritious, certified organically grown food that can be found. More than 260 Eden foods are available at discerning retailers in the U.S.A. and Canada. For more information, or if you would like our email for press releases, please call 800 248-0320, email us at cs@edenfoods.com or visit www.edenfoods.com. Retailers and Co-ops please go to access.edenfoods.com.