11 November 2011
Ladies and Gentlemen,
I reiterate our commitment to do everything necessary to protect our foods, friends, and families from nuclear radiation. This is Eden Foods' third report on its new work in ensuring purity of traditional Japanese foods it has been supplying to natural food patrons for over forty years. This ongoing new work became necessary 11 March 2011 with the Fukushima Daiichi nuclear disaster. • Please pause to remember those killed, injured, and still suffering.
I am pleased to report efforts, both here and in Japan, have been continuously successful in avoiding radiation contamination of Eden imported foods from Japan, and that tests clearly and unequivocally demonstrate this.
I believe our reactions to this disaster, as a whole, are unprecedented, unique, and only made possible by a long-standing dedication and commitment to our responsibilities to others in our role of supplying pure, healthy food.
Michael Potter, Chairman and President Eden Foods, Inc.
21 November 2011 update from Mr. Jonathan Solomon, Managing Director, Executive Vice President, and Manager of Purchasing at Eden Foods.
Begin forwarded message:
From: Jon Solomon
Date: November 21, 2011 10:32:40 PM EDT
To: Michael Potter
Subject: New Testing of Japanese foods and their containers
---
Eden Foods continues to use Eberline Analytical in Oak Ridge, Tennessee for radionuclide testing of our Japanese food supply.
Testing Methodology
Gamma Spectroscopy is the appropriate testing methodology for detecting radionuclides that are the atomic source of radiation.
Eberline tests for gamma emitting radionuclides for us. Eberline uses a radionuclide library that has every common, and many not so common, gamma emitting radionuclides.
During gamma spectroscopy, Ebeline evaluates all energy peaks within the spectra to make sure all are identified and quantified.
Testing Equipment
The testing equipment used at Eberline is high purity germanium detectors (N-type) that measure all gamma photo emission energies present between 40-3000 keV. Their detectors are connected to a Canberra multi-channel analyzer system that is calibrated to energy per channel for nuclide identifications.
The gamma spectroscopy software is Canberra also.
Radionuclide Identification
Eberline usually identifies just the Japanese Fukushima Daiichi typical (semi-volatile and volatile) from the reactor accident:
Cesium-137
Cesium-134
Iodine-131
Eberline has communicated to Eden that if they identify any others they will note and identify them in their Eden Foods' reports additionally.
Set Standard
Eden Foods has yet to set a standard for radionuclides, but all Japanese foods Eberline has been testing for us have had a stringent maximum quantitative level of Becquerel units (bq) of 25/kg.
Information provided by World Health Organization (WHO) and FDA is spotty and in our opinion provides far too much tolerance. Eden Foods' approach to this has been, and remains, a zero tolerance level confirmation.
WHO and FDA standards:
For Infants levels have been set at
55 bq/kg for Iodine 131
370 bq/kg for Cesium 134 and Cesium 137
For Adults levels have been set at
300 bq/kg for Iodine 131
370 bq/kg for Cesium 134 and Cesium 137
These numbers are a bit confusing as the cumulative effect of radionuclides seems to be the concern of WHO and FDA, rather than any one time exposure.
New Crop
Eden Foods continues to vigilantly test all of our Japanese foods on an on-going basis. We have increased the testing of Japanese foods that have been grown and harvested this year:
Umeboshi - plums, paste, concentrate, vinegar & plum balls
Rice Products - Nori Maki, Arare, Mochi, Brown Rice Vinegar
Lotus Root - slices, and tea powder
Tea - Sencha, Genmaicha, Kukicha, & Hojicha
Daikon - Takuan and shredded
Mushrooms - Maitake & Sliced and Shredded Shiitake
Wasabi
Sea Vegetables
Thus far, as of November 17th. We have not detected any radionuclides in our Japanese Foods!
Shiitake mushroom supply base has been moved to Kyushu.
Brown Rice Miso moving to Kyushu.
Organic Tea supply base will no longer include Shizuoka prefecture where there has been radiation detected in tea by others.
We continue to follow the same strict procedures for scanning incoming containers to our warehouses. This not only ensures the foods we are bringing to our warehouses are safe, but that they are safe to be around our employees.
I am confident that the laboratory, test frequency and redundancy, and procedures we have in place are protecting our Japanese food supply base and product line, and that this is being regularly confirmed and reconfirmed.
Jonathan Solomon, Managing Director
Ladies and Gentlemen,
I think this email from Jon Solomon, vice president and director of purchasing, best serves as an update on our food sources from Japan relative to the nuclear disaster that is happening there. We have reacted intelligently, quickly, vigorously, and I am confident in our thorough attention to detail in our responsibilities associated with Eden Japanese foods. The winds and ocean currents of fate have been kind to us, so far. There has also been a huge body of work created and dutifully executed both in Japan and here at Eden. The relocation of source of supply has been necessitated and quickly accomplished where prudent. As a person eating these foods I am very grateful to those successfully preparing and protecting our nourishment.
Michael Potter, Chairman and President Eden Foods, Inc.
Begin forwarded message:
From: Jon Solomon
Date: July 5, 2011 11:51:20 PM EDT
To: Michael Potter
Subject: An update on Japanese Food
Michael,
Eden Purchasing/Operations continues to scan for radionuclides each and every Japanese container (20 & 40 ft) that arrives into Clinton & California. We scan and record the readings from the back, rear and sides of the exterior of the container. We then then scan and record the readings from the rear, middle and front of the interior of the container. As the product is unloaded we also scan the boxes as they are palletized.
Purchasing continues to send out a generous representation of each container from Muso & Mitoku to Eberline Services. Approximately 7-10 products per container. Tests that are conducted at Eberline Services are as follows:
Cesium 134
Cesium 137
Iodine 131
We attempt to test from each category. Example: Tanaka Noodle from Muso produces Lotus Root, Jinenjo, Mugwort, 40% Soba, Udon and Brown Rice Udon— Purchasing would select from one of these noodles on a per container basis. All testing has come back negative. Testing data (certificates of analysis) are catalogued on the Server. I have included three examples of the certificates of analysis from Eberline Services for your review.
To date, we have radionuclide tested a sample of every Japanese sku that we sell after the Tsunami.
Ongoing:
Eden Matcha (Aiya Ceremonial grade) - new crop tested negative for radionuclides
Muso new crop Ise Bay Wakame, Ise Nori & Ise Hijiki all tested negative for radionuclides - we will test also, when finished product arrives into our warehouse.
Mitoku is sending out samples of new crop tea harvests from Nagata Plantations, located in Uji near Kyoto.
Ume Plums- Harvest is beginning in Wakayama, samples have not been sent out yet for testing.
Donko Whole & Sliced Shiitake - supply base moving to Kyushu island.
Organic Genmai Miso - supply base moving to Kyushu Island
Mirin - Mitoku is sending a sample of their Mikawa Mirin, producer is located in Hekinan in Aichi prefecture.
Natural Shoyu - Mitoku is sending a sample of from another location details to follow.
Wasabi Powder - Mitoku has contacted another supplier awaiting more info
Maitake Mushrooms - grown indoors, Mitoku is checking on the suppliers QC and how they monitor their plant media they bring into the plant to grow the Maitake.
Michael, I feel strongly that Eden has reacted positively and effectively to this crisis. We continue to be diligent in our methodology for testing incoming containers and the Japanese food. With new crop harvests, annual productions, etc. … We will continue monitoring, testing, and reporting.
Attachment 1 (PDF - 58.0KB)
Attachment 2 (PDF - 59.7KB)
Attachment 3 (PDF - 59.7KB)
To all concerned,
Eden has been supplying traditional Japanese foods for forty-three years. We eat them, and feed them to children and grandchildren. We share concern about ongoing nuclear meltdowns, how they impact Japanese foods, and the wellbeing of all of us.
The situation is fluid and earthquakes continue. Radiation from Japan spread around the entire northern hemisphere in the first two weeks of the nuclear crisis, according to the Vienna-based Preparatory Commission for the Comprehensive Nuclear-Test-Ban Treaty Organization.
One of the first things we did was acquire two radionuclide detectors and training in their use. We have recorded baseline numbers at Michigan and California Eden facilities for Japanese items that we received prior to the March 11 event. We are updating SOPs and continuing training.
We also established rapport with laboratories we are confident in, to carry out tests for Iodine 131, Xenon 133, Caesium 137, Strontium 90, etc. on incoming food. We intend to dispatch items from Japan to a reliable Lab in Germany prior to their shipment to us.
Today we inspected the first container in Detroit that left Japan after March 11th. It departed Tokyo March 14. We inspected the exterior and interior. We inspected representative samplings of the contents. Nothing was detected. This container is moving to our warehouse under FDA hold and they will take samples (very common procedure). What they will do with the samples they take remains to be seen.
Yesterday we inspected the first container in Oakland, CA that left Japan after March 11. It departed Osaka March 22. We inspected the exterior and interior. We inspected representative samplings of the contents. Nothing was detected. This container is moving to our warehouse under FDA hold and they will take samples. What tests will be done, remains to be learned.
The Canadian Food Inspection Agency has been quicker and clearer than FDA as to specific concerns, and what is required of Eden before these foods can move into Canada.
We have mapped out all sources of our foods from Japan showing their relative positions to the out-of-control nuclear reactors. We have studied air and water currents to and from Japan, updating data and information that we already had. This makes clear that some items originating near the Fukushima Dia-ichi nuclear complex must be re-sourced, to new suppliers more distant and well south of it, in particular some of our misos. We do not see any difficulty in doing this, as of today.
We work with multiple sources for food supplies from Japan. This gives us options other importers, relying on a single consolidator, do not have.
Of our eleven Japanese sea vegetable items, nine of them come from the Ise Bay, well south of Tokyo and just north of Osaka on Japan's east coast and, so far, not impacted by atmospheric or oceanic drift of radiation. Prognosis for steady supply seems good, although price pressures began immediately. Air current dispersion models that we are monitoring show nothing reaching this seaweed producing area. Additionally, ocean currents around Japan are very favorable for taking seawater radiation directly away from Eden's sea vegetable producing area in the Ise Bay. (Please see the chart below.) Eden Kombu is from Hokkaido and tsunami damage to the crop is still being assessed. Ocean and air currents look quite good for avoidance of nuclear waste becoming involved with kombu. One totally destroyed Eden sea vegetable supplier was Riken and their Sanriku wakame flakes. The crop and village of harvesters were completely destroyed by the earthquake and tsunami.
Ocean currents surrounding Japan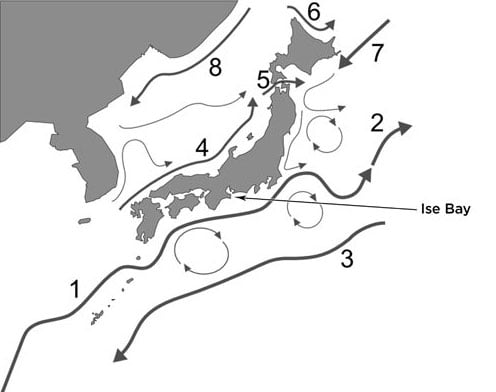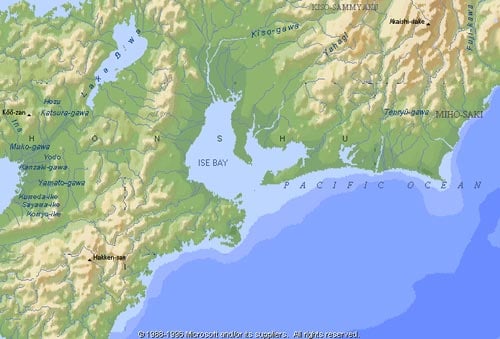 Additional items that we are concerned about today are: Maitake mushroom, Mirin, Wasabi, Yansen, Bonito flakes, some flavored Nori, Pickled Ginger, Bifun, and Dried Tofu. Specifics about these items remain very unclear at this time, yet we still have inventories that predate this event.
There are forty-seven prefectures, or geographical states, of Japan. Twelve of them are situated so that a significantly enhanced scrutinization of anything coming from them is prudent. We are methodically monitoring this very closely, and intend to avoid foods from those areas.
This disaster is a world changer for sure. The manifestation of the change is ongoing. Please know that Eden Foods and I will continue to do our job of acquiring the finest foods possible. This will obviously require accentuated attention to new details regarding our food supply. We have pioneered many before, and I am confident we will successfully do so again.
Most sincerely,
Michael J. Potter
President