6 April 2010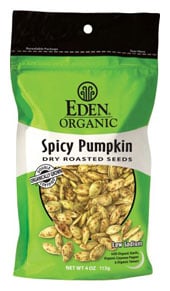 Clinton, Michigan - Men's Health magazine chose Eden Organic Spicy Pumpkin Seeds as one of the "20 Best Organic Foods for Men" in the April 2010 issue; the top choice in the "Best Fiery Snack" category. "Seasoned with soy sauce, garlic, and cayenne, these put spicy chips to shame," states Men's Health. "...Add them to your grocery list to upgrade your diet, strengthen your body, and help heal the planet."
Eden selected organic pumpkin seeds are dry roasted at their certified organic Michigan facility, and misted with Eden organic tamari soy sauce carrying organic garlic and organic cayenne pepper. A unique, hot-and-spicy food great for parties, travel, camping, backpacking, and nutritious snack. Sprinkle on salads, pasta, vegetables, and soups for a healthy flavor boost.
Eden Spicy Pumpkin Seeds are an excellent source of protein, fiber, and magnesium. They are cholesterol free, low in sodium with only 75mg per serving, a good source of iron and zinc, and contain zero trans fats.
Eden Spicy Pumpkin Seeds are gluten free with no irradiated spices, refined salt, added oil, additives, or preservatives, and are packaged in handy protective, resealable 4-ounce standing pouches.

kosher pareve.
---
Eden Foods is a 42 year principled manufacturer of natural food offering more than 250 authentic, organic, traditional,

, pure foods. All are superb pantry fare. Information and over 975 free recipes are at
www.edenfoods.com
. Retailers, institutions, and co-ops, please visit us at
access.edenfoods.com
.