16 February 2010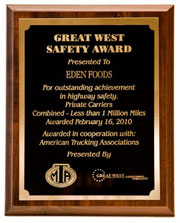 Eden Foods received the Michigan Trucking Association's 2009 Fleet Safety Award for the 22nd year in a row. This award was developed with the American Trucking Association to honor the safest trucking fleets, and to recognize companies who show a genuine commitment to safety and accident reduction.
Awards are given to fleets with the lowest accident frequency rate in nine class divisions: general commodities, auto transporters, private carriers, heavy haulers, household goods, oilfield haulers, tank truck, vehicle transportation (drive away), and miscellaneous. The Fleet Safety Award is based on a miles-to-reportable accident percentage.
Eden's trucking fleet had no reportable accidents and was presented the award for outstanding achievement in highway safety in the private carrier division on the 16th of February 2010. Eden has received this prestigious award every year that they applied since 1987; for twenty-two years in a row!
Eden is honored to be the recipient of the Private Carrier division, "2009 Fleet Safety Award." Safety is part of Eden's company culture, and we commend our trucking crew for their diligence and achievement in maintaining such a commendable safety record.