19 January 2010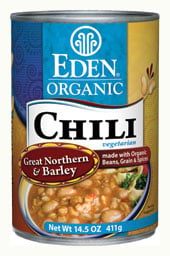 Clinton, Michigan - Eden® Organic Chilies is the selected winner of Grocery Headquarters' 2010 Selling Wellness Trailblazer Award in the 'Meal Maker' category. The January 2010 issue of Grocery Headquarters magazine announces this award.
"Since 2006, Grocery Headquarters' annual Trailblazer Awards have honored health and wellness companies that dare to stand apart and are true leaders in innovation," writes Carole Radice, Selling Wellness editor. "This year, the staff judged 19 categories, considering factors such as taste profile, ingredients, packaging, and intrinsic health benefits." Ms. Radice wrote this of Eden, "Known for its wide array of dry grocery, organic specialty food, Clinton, Michigan-based Eden Foods recently expanded its organic meal options with the addition of four meatless chilies: Black Bean & Quinoa, Great Northern & Barley, Kidney Bean & Kamut and Pinto Bean & Spelt. In addition to the whole grains, the chilies include Maitake and Shiitake mushrooms imported from Japan, 100% organic vegetables and spices."
Eden Chilies are clearly unique. Made with USA family farm organic beans and organic whole grains, they contain no textured vegetable protein (TVP), and are the only brand chilies available in cans with a bisphenol-A free linings.
Eden Chilies are skillfully prepared at Eden's certified organic and kosher cannery. They contain 50 percent less sodium than others, provide complete protein from whole grain and bean, and are rich in fiber and flavor.
Healthy, tasty, award winning Eden chili, from pantry to palate in minutes.
---
Eden Foods is a 42 year principled manufacturer of natural food offering more than 250 authentic, organic, traditional,

, Pure foods. All are superb pantry fare. Information and over 925 free recipes are at
www.edenfoods.com
. Retailers, institutions, and co-ops, please visit us at
access.edenfoods.com
.