9 December 2009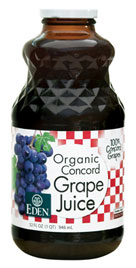 Clinton, Michigan - North America's senior natural foods company announces Eden Organic Concord Grape Juice, adding to its line of pure, freshly pressed extraordinary juice that includes apple and tart cherry. It is from certified organic Concord grapes grown on a 20 year organic family vineyard on the shore of New York's Keuka Finger Lake. Grapes are simply pressed, lightly filtered, and bottled. All without enzymes, chemical additives (sometimes called natural flavors), or water.
The Finger Lake produced microclimate creates conditions where grapes flourish from well drained glacial soil, hot summers, and abundant water.
The Concord grape got its name from Concord, Massachusetts where in 1849 Mr. Ephraim Bull crossed native American wild fox grape Vitis labrusca with European stocks to produce a larger American grape that could withstand New England's cold. After evaluating more than 22,000 attempts Mr. Bull chose the Concord grape and won first place at the 1853 Boston Horticultural Exhibition and long lasting fame.
Concord grape juice was recently ranked #1 in antioxidant benefits out of 1,000+ foods tested, and found especially rich in proanthocyanidin flavonoids. These researchers declared that it's more beneficial than fresh grapes or red wine.
Eden Organic Concord Grape Juice captures complete antioxidant benefit. Amber glass protects its flavor, nutrients, and valuable color. Refreshing and rejuvenating this juice is slightly tart and unlike any other Concord Grape Juice.
---
Eden Foods is a 41 year principled manufacturer of natural food offering more than 250 authentic, organic, traditional,

, pure and purifying foods. All are superb pantry fare. Information and over 920 free recipes are at
www.edenfoods.com
. Retailers, institutions, and co-ops, please visit us at
access.edenfoods.com
.