7 May 2002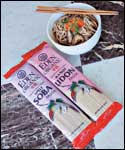 Clinton, Michigan - Eden Foods expands its line of traditional Japanese pasta with NEW Organic Kamut Udon and Organic Spelt Soba. Each is made from stone ground, organically grown Canadian grain. These ancient varieties of grain are artfully crafted at the Sobaya Company, our certified organic plant in Montréal, Québec.
The two new pastas are the fifth and sixth in Eden's line of traditional Japanese organic pasta that is made in Canada. The existing four - Soba, Udon, Brown Rice Udon, and Somen - along with the two new ones have colorful new labels. The different colors harmonize, while distinguishing each of the six pastas from each other.
New Eden Kamut Udon is 100 percent whole grain, organic kamut (Triticum durum) plus a touch of sea salt. Kamut is ancient, non-hybridized wheat known for its gold color, large kernels, superb flavor, and high protein. Many people with allergies to modern wheat find that they can enjoy kamut with no problem. Traditionally udon is a combination of whole wheat and sifted whole wheat flours. Eden Kamut Udon contains only whole kamut flour, and is a heart healthy whole grain food. Udon is wide cut like linguini. It is versatile and ideal with dashi (noodle broth).
New Eden Spelt Soba is a combination of two supremely energizing and strengthening, non-hybridized grains, spelt (Triticum spelta) and buckwheat (Fagopyrum esculentum). Also known as dinkel and farro, spelt is an ancient and distant cousin to modern wheat. It was one of the first grains to be cultivated and has grown on Earth for about 9,000 years. The twelfth century healer St. Hildegard wrote about spelt, "It produces a strong body and healthy blood for those who eat it and it makes the spirit of man light and cheerful." Both spelt and buckwheat are valued for their rich flavor and health benefit, and both can be easily enjoyed by most people who have wheat allergies. Spelt is easy for the body to assimilate because it is uniquely water soluble. Buckwheat is excellent for stabilizing blood sugar and it contains high amounts of rutin, a flavonoid that causes decreased capillary fragility. Buckwheat is rich in all eight essential amino acids, especially lysine. Soba (buckwheat) noodles have been the healthy fast food of Japan for centuries. It is similar to spaghetti, but cut square.
Eden Kamut Udon is an excellent source of protein and phosphorus, and a good source of fiber, magnesium, zinc, thiamin (vitamin B1), and niacin (vitamin B3). Eden Spelt Soba is an excellent source of thiamin and a good source of protein and magnesium. Each is a low sodium, low fat food.
As with the buckwheat and spring wheat, the spelt and kamut used at Eden's Canadian pasta plant is 100 percent Canadian organically grown. Sobaya contracts with the OCIA certified organic mill, Minoterie Les Brumes in Batiscan, Quebec. Here they use sixty inch horizontal discs made of a rare flint granite to slowly grind grain. This method best retains nutrients and flavor.
Eden's noodles are made by the same roll and cut process as traditional handmade noodles in Japan. The flour is slowly kneaded with pure water and a bit of sea salt which helps to bind the dough, enhances the flavor, and naturally preserves the finished pasta. The dough is then rested for hours; an essential step in creating the right texture. When finished it is repeatedly layered and laminated, and then rolled out and cut on a bladed roller. The pasta is cut into long sections, lifted on racks, and rolled into the drying room. It is allowed to dry slowly for up to twenty-four hours depending upon thickness, temperature, and humidity. It is constantly monitored until ready when it is hand cut, packaged, and on its way.
Eden Japanese organic pastas are delicious, deeply strengthening and nourishing. Whole grain that has not been stripped of its germ or bran is essential to health, providing the high quality vegetable protein, complex carbohydrates, fiber, vitamins, minerals, and antioxidant nutrients that we need to grow and thrive. Eden offers delicious choices making it easy to include whole grain in your diet.
Commercial pasta is made from refined flour, extreme heat, and microwave drying. Many labeled 'whole grain' are tough, gritty, and less nutritious because of over processing and they may not contain much whole grain at all. Eden Pasta is a wise choice; light, delicious, and nourishing because it is made with patience, care, the best ingredients, and processes that enhance value.
---
Eden means no irradiation, no preservatives, no chemical additives, no food colorings, no refined sugars, no genetically engineered ingredients; just the safest, most nutritious, certified organically grown food that can be found. More than 260 Eden foods are available at discerning retailers in the U.S.A. and Canada. For more information, or if you would like our email for press releases, please call 800 248-0320, email us at cs@edenfoods.com or visit www.edenfoods.com. Retailers and Co-ops please go to access.edenfoods.com.