14 December 2001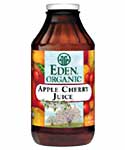 Clinton, Michigan - Eden Foods introduces new Organic Apple Cherry Juice, the third juice in our line of wholesome, traditionally prepared fruit. Eden Organic Apple Cherry Juice is a sweet tart blend of eight heirloom apple juices (75 percent) and tart montmorency cherry juice (25 percent). The fruit is grown on family owned orchards on the shores of the Great Lakes, an ideal tree fruit producing area because of the seasonal lake effect. The families who grow our fruit are committed to organic agriculture. They produce the most nutritious, delicious fruit we have found.
Eden Apple Cherry Juice is made using traditional methods. The apples and cherries are hand sorted, washed and simply pressed on a Swiss made Bucher juice press with no 'press aids,' enzymes, concentrates, water, or sweetener. Apple and cherry juice are blended, the juice is lightly filtered and bottled in amber glass to protect its flavor and nutrients. Its slight cloudiness show that it's good old fashioned juice and that we didn't use enzymes.
Most apple juices, both commercial and 'natural' ones are made using press aids (pellets of compressed scrap wood) and enzymes to draw more juice out of the fruit. Enzymes are used in both pressing and later for clarification. Many juices are from concentrates and have added sugar. Short cuts compromise quality and flavor. The enzymes used in juice production are almost always genetically engineered.
Eden Apple Cherry Juice is simply organically grown fruit providing the best flavor, nutrition, and peace of mind. A six year study comparing different types of apple production was recently conducted at Washington State University and published in the journal Nature (20 April 2001). The study found that organic growing techniques produce better tasting fruit than commercial farming methods, and that organic methods are better economically for growers. Eden pays its growers a sustainable price for their organic fruit.
The montmorency cherry is known as 'the healing cherry' and is a potent source of seventeen antioxidants. A recent study at Michigan State University shows that cyanidin, an anti-inflammatory compound found in the montmorency cherry, is ten times more potent than aspirin. Apples are a good source of bioflavonoid nutrients. A study published in the American Journal of Epidemiology (1997) found that flavonoid rich foods such as apples could reduce a person's overall cancer risk by 20 percent and lung cancer risk up to 46 percent.
It's wise to be choosy when picking fruit and fruit juice. The USDA has identified 35 insecticides, fungicides, and weed killers sprayed on apples, even though the Environmental Protection Agency considers them hazardous. Tests by the Environmental Working Group show that these chemicals do show up at the supermarket, so it is especially important to choose an organic fruit you can trust. Eden brand is the wisest choice delivering the best value, flavor, and nourishment.
Apple Cherry Juice is the newest addition to Eden Foods' line of fruit and juice. Eden Apple Juice, Apple Sauce, and Apple Butter were the result of a partnership that began almost a decade ago when six families near the east shore of northern Lake Michigan asked Eden to help them convert their orchards to organic. Today Eden has a steady supply of the best apples we could hope for, and a growing supply of organic and transitional-to-organic cherries from the same orchards. In 1998 Eden introduced Montmorency Cherry Juice, which received the award of 'Outstanding Beverage' from the National Association for the Specialty Food Trade (NASFT) on 9 July 2001.
---
Eden means no irradiation, no preservatives, no chemical additives, no food colorings, no refined sugars, no genetically engineered ingredients; just the safest, most nutritious, certified organically grown food that can be found. More than 260 Eden foods are available at discerning retailers in the U.S.A. and Canada. For more information, or if you would like our email for press releases, please call 800 248-0320, email us at cs@edenfoods.com or visit www.edenfoods.com. Retailers and Co-ops please go to access.edenfoods.com.