9 June 2009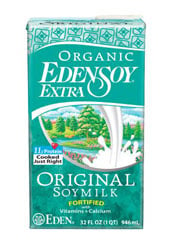 Clinton, Michigan - Eden Foods achieved the highest score, 955 out of 1000, in the highest category of the Organic Soy Scorecard, a comprehensive evaluation carried out in a year and half's research into the Social, Environmental, and Health Impacts of soy foods in North America. The Cornucopia Institute, an objective independent research and advocacy organization dedicated to preserving organic integrity and creating economic justice for family farmers, released the report May 18th. Eden Foods has never contributed a dime to them.
The Organic Soy Scorecard thoroughly evaluated 62 organic brands, only 7 were in the highest category. Of these Eden Foods was ranked the highest and was the only highest category brand available nationally. The leading national soy food brand scored zero. All brands were rated on ten criteria including sourcing, stringency of organic certifier, and prevention of GMO and chemical contamination. The "uncensored story" reports the brands most committed to organic integrity are independent companies who source exclusively and directly from North American family farms. Most large publicly traded corporations source soybeans from China and add soy protein isolate extracted with hexane, a neurotoxic petrochemical.
Every Eden soybean is grown by North American farmers who have multi-decade relationships with Eden. The farmers receive their money directly from Eden and are visited regularly. Great care is taken to avoid GMO contamination. Eden performs in-house testing on every load coming in, one of the very few companies, at great expense, to make this important effort. Eden is committed to using only pure, real-food ingredients and sources true vanilla, cocoa, and carob rather than artificial or so-called natural flavor additives.
The Organic Soy Scorecard shows organic standards are being circumvented as producers and corporations take short cuts achieving cheaper production. Eden Foods president Michael Potter said, "American organic food is at a crossroad. Will people accept a veneer of 'organic' and the erosion of what it means to be organic, or will they use the soy report to redirect their dollars demanding purity and quality? If the compromise of organic standards continues, there won't be companies like Eden Foods."
The Organic Soy Scorecard and full "Behind the Bean: The Heroes and Charlatans of the Natural and Organic Soy Foods Industry" report are available at cornucopia.org.
---
Eden Foods is a 41 year principled manufacturer of natural food offering more than 250 authentic, organic, traditional,

, Pure foods. All are superb pantry fare. Information and over 900 free recipes are at
www.edenfoods.com
. Retailers, institutions, and co-ops, please visit us at
access.edenfoods.com
.