6 April 2009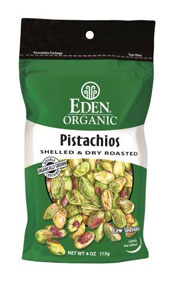 Clinton, MI — Eden Foods announces Eden Organic Pistachios are not affected by the current pistachio recall. Eden organic pistachios are roasted in-house under stringent quality controls designed to thoroughly ensure food purity and safety.
The Food and Drug Administration advised the public to avoid pistachio products after the nation's second largest processor recalled over 2 million pounds of salmonella contaminated nuts shipped since fall 2008.
Eden Organic Pistachios are Safe. They are grown by two California family farmers certified organic for over 10 years. Unlike many conventionally grown nuts, Eden organic pistachios never touch the ground. They are harvested onto tarps, immediately transferred to steel bins, hulled within 24 hours, air dried, cleaned, machine and hand sorted, and transported to Eden's Michigan headquarters. All our nuts are kept in cold storage until they are gas fire infrared dry roasted in equipment that's rigorously inspected daily. This roasting further ensures sterility and while imparting greater flavor. Each batch is in-house and third party tested for potential chemical and biological contaminants. Our systems, thorough screenings, and the growing and handling practices of Eden pistachios have again proven effective. This wide spread recall does not affect Eden pistachios. Every batch has tested/proven negative for contaminants.
Recent widely publicized causes of contamination of nuts do not exist at Eden facilities and no employee here would allow them to exist. Eden's facilities maintain the industry's highest level of standards for food safety and cleanliness, every day. "Our smaller, slower, approach to food preparation and handling is inherently safer," says Michael Potter, Eden Foods' president.
Anyone with questions or concerns may contact Eden Foods at 800 248-0320.
---
Eden is a 41 year principled manufacturer of natural food. More than 250 authentic, organic, traditional,

, Pure foods, all are superb pantry fare. Information and over 880 free recipes are at
www.edenfoods.com
. Retailers, institutions, and co-ops, please visit us at
access.edenfoods.com
.