28 January 2009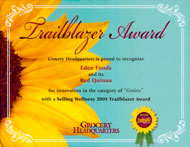 Clinton, Michigan - Eden Foods' Red Quinoa was selected winner of the Grocery Headquarters 2009 Selling Wellness Trailblazer Award in the "Grains" category. Eden® Organic Red Quinoa was honored as the innovative whole grain. The award was announced in the January 2009 issue of Grocery Headquarters magazine.
The annual Selling Wellness Trailblazer Awards began in 2006 to recognize "Offerings with the most potential to be big sellers in their respective categories within conventional retail," writes Suzanne Vita Palazzo, Selling Wellness editor.
2009's wellness offerings were introduced at the Natural Products Expo East convention in Boston, Massachusetts in October. Grocery Headquarters judged products in 19 categories based on taste profile, packaging, and intrinsic health benefit. Whole grain Eden Organic Red Quinoa was selected as the winner in the "Grains" category as a "healthy alternative to traditional grain offerings."
Eden Organic Red Quinoa is the rare pasankalla variety, family plot organically grown on Bolivia's Andean Plateau at over 12,000 feet. Quinoa has the most complete amino acid profile of all grains, is rich in magnesium and folate B9, and is a good source of iron, thiamin B1, and riboflavin B2. It is an excellent source of fiber and a good source of protein. Quinoa is a delicious alternative whole grain and cooks light and fluffy in less than 15 minutes. It is easy to see why this nutritional powerhouse has great sales potential in specialty and mainstream markets alike.
"Red quinoa is a rare and unique gluten-free organic whole grain that is colorfully packaged in a protective, resealable standing pouch making it retail and people friendly," says Sue Becker, Eden's Vice President of Marketing. "We are grateful to be honored with Grocery Headquarters' Trailblazer Award."
---
Eden Foods is a 41 year principled manufacturer of natural food that's authentic, organic, traditional, ethnic,

, Pure, and superb pantry fare. Over 880 free recipes and information is at
www.edenfoods.com
. To receive Eden press releases by email, please call 800 248-0320 or email
press@edenfoods.com
. Retailers, institutions, and co-ops, please visit
access.edenfoods.com
.