14 May 2008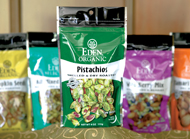 Clinton, Michigan — Eden Foods adds roasted and shelled Eden Organic Pistachios to its new line of 4 ounce healthy snacks.
Eden Organic Pistachios are organically grown on a thirteen year organic family orchard in California's Central Valley. They are the prized Kerman variety - plump, bright green, crunchy, and buttery. A mildly sweet and lightly salty, 'good for you' snack delivering heart healthy monounsaturated fatty acids, 7 grams per 3 tablespoon serving, with no cholesterol. They're a good source of protein, dietary fiber, thiamin (vitamin B1), and manganese.
Eden Organic Pistachios are harvested in late August to early October when the hulls turn rosy and the shells split indicating ideal ripeness. At harvest, machines shake the tree for several seconds causing the ripe pistachios to fall into a canvas frame. The frame prevents the pistachios from touching the ground, which causes bruising and staining. It also prohibits soil bacteria from entering the nuts preventing aflatoxins. The nuts are hulled, dried, sorted, and shipped to Eden's Clinton, Michigan AIB International Superior rated facility. Here they are rotary oven dry roasted, lightly misted with Eden Sea Salt, and packaged.
Pistachios Pistacia vera grow on trees in heavy clumps similar to grape clusters, and like almonds have a soft outer hull. They're called the 'green almond' as well as the 'happy' or 'smiling' nut for resembling a smiling face with their split shell. Enjoyed for at least 10,000 years, pistachios are one of the oldest nuts indigenous to ancient Persia, an area stretching from the Mediterranean to Afghanistan.
Pistachios grew in the hanging gardens of Babylon, and are one of two nuts mentioned in the Old Testament along with almonds. In Persia it was believed that good fortune and happiness came to couples enjoying the captivating flavor of the pistachio, while listening to the cracking sound of the shells above their heads as they strolled through the orchards.
California's Central Valley with its Mediterranean-like climate is the only place in the U.S. where pistachios can be grown. Today California is the second largest producer of pistachios in the world, next to Iran.
In the 1930s American plant scientist William E. Whitehouse spent months in Persia collecting pistachio seeds. He returned with 20 pounds of Kerman seeds. It wasn't until the 1970s that the pistachio became a viable commercial crop in California.
Eden Organic Pistachios can be ground and used to make cream sauces and desserts, tossed whole or chopped in stir fries, pastas, green or fruit salads, pilafs, couscous and wild rice dishes, any baked good, party mixes, and any cereal.
These ten snacks come in easy to merchandise, 4 ounce reclosable pouches.
All are low or very low sodium, 15 bags per box, in merchandisable cases. The bags are hole punched for strip displays.

kosher pareve.
---
Eden means no irradiation, no preservatives, no chemical additives, no food colorings, no refined sugars, no genetically engineered ingredients; just the safest, most nutritious, certified organically grown food that can be found. More than 260 Eden foods are available at discerning retailers in the U.S.A. and Canada. For more information, or if you would like our email for press releases, please call 800 248-0320, email us at cs@edenfoods.com or visit www.edenfoods.com. Retailers and Co-ops please go to access.edenfoods.com.