22 February 2008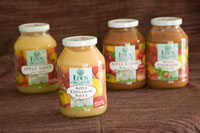 Clinton, Michigan — Eden Foods adds to its offering of family farm orchard certified organic Apple Sauce with NEW Organic Apple Cinnamon Sauce.
Eden Apple Cinnamon Sauce is a blend of select varieties of apples organically grown on the shores of the Great Lakes, an ideal tree fruit area due to the seasonal lake effect mitigating late Spring frosts. Eden has worked with these families over ten years, watching the conversion of their trees and orchards to Certified Organic. After years of organic management these orchards produce some of the world's finest, tastiest, most nutritious fruits.
Apples are hand sorted, washed, peeled, cored, sliced, and chopped, then slowly cooked into a thick 12.5 Brix sauce. Only the right touch of organic cinnamon is added, no sweeteners or anything else.
Eden Organic Apple Sauce now comes in four SKUs …
Each is fat free and very low sodium. In 25 ounce Glass.

kosher pareve.
---
Eden means no irradiation, no preservatives, no chemical additives, no food colorings, no refined sugars, no genetically engineered ingredients; just the safest, most nutritious, certified organically grown food that can be found. More than 260 Eden foods are available at discerning retailers in the U.S.A. and Canada. For more information, or if you would like our email for press releases, please call 800 248-0320, email us at cs@edenfoods.com or visit www.edenfoods.com. Retailers and Co-ops please go to access.edenfoods.com.