5 December 2007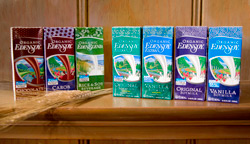 Clinton, Michigan - Eden Foods has updated all Edensoy single serve packages with new TetraPak® slimline aseptic containers. Edensoy is the first food in the Western hemisphere to be offered in this package. The new Edensoy® single serves are slimmer, handier, and take up less shelf and refrigerator space.
All 8.45 oz (250 ml) Edensoy organic soymilks and Edenblend® organic soy and short grain brown rice blend, have been upgraded to the new package. There is no change in the product, volume, price, or UPC codes. For increased product protection they are now case packed in a recycled and recyclable, wrap around corrugated box.
Edensoy packages require no refrigeration until after they are opened. Eden's packaging partner, Tetra Pak, invented aseptic technology with the goal of delivering food to people using a minimum amount of materials and energy.
Seventy three percent of the Edensoy package is made from wood, a renewable resource. This paperboard comes from actively managed forests using sustainable forestry practices that assure harvested trees are replenished, biological biodiversity is preserved, and endangered species are protected. Edensoy aseptic cartons are recyclable and their most valuable benefit to the planet is that they require no refrigeration in transport or storage.
Introduced in 1983, Edensoy is the only soymilk in America made with only 100% U.S.A. family farm organically grown soybeans, grain, and only pure food ingredients like 100% pure vanilla extract, and no refined sugars. Eden knows each of the growers and visits their farms, fields, and families regularly.
Soy protein requires meticulous preparation and through cooking to transform it into easy to digest, nutritious food. Edensoy is expertly made at Eden's certified organic Michigan plant, using 240 continuous quality control checks and years of research into how to best choose and prepare soybeans.
Edensoy ingredients include:
Organic U.S.A. Soybeans ~ The cream of the crop, meticulously selected and multi-tested GEO free.
Delicious Real Flavors ~ Organic fair trade dark cocoa powder Therbroma cacao, real carob Ceratonia siliqua, and unlike any other brand, only pure vanilla extract Vanilla planifolia.
Natural Vegan Fortification ~ The finest quality, most bio-available, 100% plant based beta carotene, calcium, vitamins B-12, D2, and E.
Kombu (a.k.a. kelp) ~ A healthy seaweed with natural alginic and glutamic acids that enhance the flavor of food, especially beans.
Gentle, Unrefined Sweeteners ~ Traditionally malted organic barley and wheat, and organic maple syrup.
Short Grain Brown Rice ~ The rice half of E

denblend

, organically grown in California and traditionally koji fermented into sweet amazake.
Each Edensoy single serve is a good source of Heart Healthy soy protein. Each is low sodium and contains naturally occurring EFA's, omega 3, 6, and 9, and up to 72mg antioxidant isoflavones per serving. Edensoy contains no refined sugars, chemically extracted soy protein isolates, or hidden 'flavor masker' additives, as commonly used in commercial soy products. More information on Edensoy, including free recipes, can be found at www.edenfoods.com.
---
Eden means no irradiation, no preservatives, no chemical additives, no food colorings, no refined sugars, no genetically engineered ingredients; just the safest, most nutritious, certified organically grown food that can be found. More than 260 Eden foods are available at discerning retailers in the U.S.A. and Canada. For more information, or if you would like our email for press releases, please call 800 248-0320, email us at cs@edenfoods.com or visit www.edenfoods.com. Retailers and Co-ops please go to access.edenfoods.com.