27 July 2007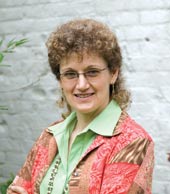 Clinton, Michigan, U.S.A. - Eden Foods is pleased to announce the hiring of Janet Tovey as National Sales Manager of Canada effective 15 August 2007.
Ms. Tovey brings 19 years of successful sales and merchandising management experience to this position, including 11 years in the Canadian natural foods industry.
For the past five years Ms. Tovey has served as Sales Manager for the Ontario Natural Foods Co-op (ONFC), a 31-year natural food distributor based in Mississauga, Ontario. She has also worked with Snapdragon Natural Foods, Michael Theodor Brokerage, and the Alive Publishing Group.
Ms. Tovey's extensive experience in sales and merchandising has been enhanced throughout her career by a lifelong interest in fine arts, marketing, and communication. She holds a Bachelor of Applied Arts from Ryerson University in Toronto.
"Janet brings an ideal combination of experience, knowledge, and creative talent to the position of Canadian National Sales Manager," says Sue Becker, Eden's Vice President of Marketing and Sales. "Our Sales team and everyone at Eden is looking forward to working with her."
---
Eden means no irradiation, no preservatives, no chemical additives, no food colorings, no refined sugars, no genetically engineered ingredients; just the safest, most nutritious, certified organically grown food that can be found. More than 260 Eden foods are available at discerning retailers in the U.S.A. and Canada. For more information, or if you would like our email for press releases, please call 800 248-0320, email us at cs@edenfoods.com or visit www.edenfoods.com. Retailers and Co-ops please go to access.edenfoods.com.