9 October 2001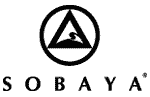 Clinton, Michigan - Eden Foods acquired its first Canadian company and second certified organic pasta operation on 27 September 2001 with the purchase of La Maison de Soba Inc., doing business as the Sobaya Company. They have made Eden® Organic Soba, Udon, Brown Rice Udon, and Somen Noodles for ten years.
Sobaya (Japanese for 'soba shop') is North America's only certified organic, traditional Japanese pasta making plant and is located in Montreal, Quebec.
The Sobaya story began in 1983 when Jacques Petit, a teacher of physical education and Zen meditation, visited Japan to study with the Masters. There he discovered the joy of eating fresh, hand made soba noodles every day. (As Mr. Petit says with a grin, "After leaving Japan I suffered soba withdrawal.") In 1985 he returned to Japan, but this time to study soba. Apprenticing in a traditional Japanese noodle shop or 'sobaya,' in the heart of Tokyo, he learned the art of making soba and udon. Returning home to Montreal, Mr. Petit started a pasta company that he named Sobaya in honor of the Japanese tradition. Today Sobaya produces the finest Japanese style pasta made anywhere in the world, including Eden Foods' line of organic traditional Japanese Udon, Soba, and Somen.
"We bought Sobaya because they make the most delicious soba, udon, and somen noodles from the most nourishing organic stone ground grain," says Eden Chairman and President, Michael Potter. "With their long standing reputation for doing things right, their commitment to the highest standard of organic production and traditional pasta making methods, Sobaya is a great fit for Eden Foods. We are especially proud to have Mr. Jacques Petit join our team."
Mr. Petit 'hand picked' Eden to purchase Sobaya. "There is no friendlier arrangement than the one we've made with our longtime partner," he said. "As an Eden owned company Sobaya will be able to survive long term and stay true to our core values." Sobaya makes four types of organic Japanese pasta, each available under the Eden and SOBAYA® labels:
Soba, the healthy fast food of Japan for centuries, similar to spaghetti in thickness, but square cut. Made from buckwheat and sifted whole wheat flour. "Soba" means buck wheat; a supremely energizing and strengthening grain.
Udon, a combination of whole wheat and sifted whole wheat flours. A wider cut like linguini. Versatile and ideal with dashi (noodle broth)
Somen, a thin round wheat noodle, quick cooking like cappellini.
Genmai (Brown Rice) Udon, made with a blend of brown rice and whole wheat flour.
All grain is 100 percent Canadian organically grown, except for the organic brown rice from the United States. Sobaya contracts with the OCIA certified organic mill, Minoterie Les Brumes in Batiscan, Quebec. Here they use 60 inch discs made of a rare flint granite to slowly grind grain. This method best retains nutrients and flavor.
Sobaya's noodles are made by the same roll and cut process as traditional handmade noodles in Japan. The flour is slowly kneaded with pure water and a bit of sea salt which helps to bind the dough, enhances the flavor, and naturally preserves the finished pasta. The dough is then rested for hours; an essential step in creating the right texture. When finished it is repeatedly layered and laminated, and then rolled out and cut on a bladed roller. The pasta is cut into long sections, lifted on racks, and rolled into the drying room. It is allowed to dry slowly for up to twenty-four hours depending upon thickness, temperature, and humidity. It is constantly monitored until ready when it is hand cut, packaged, and on its way.
"We call our process 'fresh dried'," says Mr. Petit. "That means we don't make them until we get an order from a distributor. Then we grind the flour, produce the noodles to order, and ship them as soon as they are dried. Quality and Service is our focus."
Eden Japanese organic pastas are delicious, deeply strengthening and nourishing. Whole grain that has not been stripped of its germ or bran is essential to health, providing the high quality vegetable protein, complex carbohydrates, fiber, vitamins, minerals, and antioxidant nutrients we need to grow and thrive. Eden and Sobaya offer delicious choices making it easy to include whole grain in your diet.
Commercial pasta is made from refined flour, extreme heat, and microwave drying. Many labeled 'whole grain' are tough, gritty, and less nutritious because of over processing and they may not have much actual whole grain at all. Eden Pasta is a wise choice; light, delicious, and nourishing because it is made with patience, care, the best ingredients, and processes that enhance value.
---
Eden means no irradiation, no preservatives, no chemical additives, no food colorings, no refined sugars, no genetically engineered ingredients; just the safest, most nutritious, certified organically grown food that can be found. More than 260 Eden foods are available at discerning retailers in the U.S.A. and Canada. For more information, or if you would like our email for press releases, please call 800 248-0320, email us at cs@edenfoods.com or visit www.edenfoods.com. Retailers and Co-ops please go to access.edenfoods.com.