7 October 1999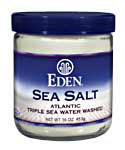 Eden Atlantic Sea Salt comes from the environmentally protected salt marshes of southern Portugal, in the province Algarve (al-gar-vay), one of earth's most beautiful shorelines. Located at the mouth of the Mediterranean Sea, this region supplied salt to the entire known world in ancient times. High quality, natural sea salt is still their most important export.
Only natural and traditional methods - no additives or chemicals - are used to create Eden Atlantic Sea Salt's smoothness and natural whiteness, and to capture its flavor and store of valuable minerals.
After harvesting, the salt is washed three times with sea water, brightening and whitening it while preserving flavor and nutrients. It is heated to remove moisture, and sifted to ensure a fine, consistent grain.
By contrast, commercial salt is bleached, refined at 1200°F, microwaved, and infused with synthetic chemicals that act as flowing agents to achieve desired texture and cosmetic features. The result is a metallic bitter flavor.
Eden Atlantic Sea Salt has the clean, full bodied flavor intended by Nature. An excellent value, it is ideal for everyday use as a table salt, and in cooking and baking. For use in salt shakers, add a few grains of rice to help control clumping in humid environs.
Eden Atlantic Sea Salt is the second in Eden's line. In 1998, we introduced hand-harvested, stone ground Sea Salt from the Isle of Noirmoutier, Brittany, France - a coarser, moist salt flecked with gray minerals. Cooks appreciate the unique qualities of each Eden Salt, and find that they complement each other. Each is packaged in convenient wide-mouthed glass and both are available bulk.
---
Eden means no irradiation, no preservatives, no chemical additives, no food colorings, no refined sugars, no genetically engineered ingredients; just the safest, most nutritious, certified organically grown food that can be found. More than 260 Eden foods are available at discerning retailers in the U.S.A. and Canada. For more information, or if you would like our email for press releases, please call 800 248-0320, email us at cs@edenfoods.com or visit www.edenfoods.com. Retailers and Co-ops please go to access.edenfoods.com.