Six New USA Organic Dry Beans in Boxes
20 April 2009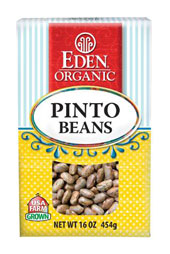 Clinton, Michigan - Eden Foods, North America's senior natural food company, introduces a line of six USA family farm organic dry beans in one-pound boxes. They contain the heart of Eden award winning canned beans that include unseasoned/unsalted, refried, seasoned, and rice & beans. All are USA family farm grown and Eden selected.
Organic Black Beans - Michigan grown black turtle beans containing powerful antioxidant anthocyanins. A Mexican staple and bestseller.
Organic Garbanzo Beans - California and Arizona grown chickpeas, essential for hummus, falafel, and well-rounded salads. A natural food favorite.
Organic Green Lentils - North Dakota grown and one of the first cultivated staples. Wonderful with grain, or in soups, stews, salads, dips, or as Indian dahl.
Organic Kidney Beans - Michigan and New York grown classic red chili beans. Their dark red skin is packed with antioxidants.
Organic Navy Beans - Michigan grown white beans that are American as Apple Pie. Essential in Boston Baked Beans and Navy Bean Soup.
Organic Pinto Beans - Michigan grown, they're the most popular bean in America, named after the Spanish word for 'painted.' Sweet and satisfying.
Eden Organic Dry Beans are slowly field dried, cleaned, and packaged in reclosable boxes made of recycled and recyclable paperboard. Each box includes complete cooking instructions and an Easy Eden kitchen tested, wholesome recipe.

pareve.
---
Eden Foods is a 41 year principled manufacturer of natural food. More than 250 authentic, organic, traditional,

, Pure foods, all are superb pantry fare. Information and over 880 free recipes are at
www.edenfoods.com
. To receive Eden press releases by email, please call 800 248-0320 or email
press@edenfoods.com
. Retailers, institutions, and co-ops, please visit us at
access.edenfoods.com
.
---
www.edenfoods.com
©2021 Eden Foods, Inc.