EDEN Brown Rice & Black Soybean Mochi
Brown Rice & Black Soybean Mochi is skillfully multi-step made of steamed and pounded JAS certified organic sweet brown rice with organic Japanese black soybeans and a bit of sea salt. Vacuum packed, no refrigeration is needed for storage. Mochi softens and puffs into moist cakes with crisp chewy crust from slow pan sizzling, or when baked about 8 minutes. Gluten Free.
---
Müesli is whole grain cereal that can be enjoyed cold or hot. It was first created around 1900 by Swiss physician Dr. Maximillian Bircher-Benner and his wife for patients in their hospital. Today, müesli is popular cereal throughout Europe. EDEN Müesli is made from three EDEN Flakes - rolled oats, rye, and spelt wheat; three 100% organic dried fruits - raisins, lowbush wild blueberries, and cranberries for sweet, tangy texture; and two seeds - roasted, lightly salted pumpkin seeds and raw sunflower seeds lend richness and crunch. EDEN Cinnamon Müesli includes organic cinnamon that adds efficacy and flavor.
---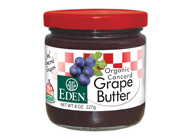 North America's preeminent natural foods company introduces an organic Concord Grape Butter. It is the collaborative fruit from a twenty plus year organic vineyard on the shore of New York's Keuka Finger Lake. The 8 ounce glass jars of EDEN Grape Butter contain just one ingredient, wonderfully delicious organic Concord grapes, kettle cooked into a thick fruit butter.
---
Organic Dried Apples & Organic Dried Apricots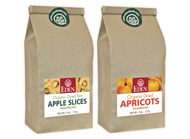 Eden Foods announces new 4 ounce organic dried Granny Smith Apple rings and 8 ounce organic dried Apricot halves. Sun and air-dried without sulfites, refined sugars, or preservatives, just dried fruit that's sweet and mildly tart all by itself. A handy healthy snack out of the bag, and delicious additions to salads, grain dishes, stuffing, desserts, and baked goods.
---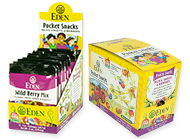 Announcing Pocket Snacks from Eden Foods. The finest nuts, seeds, and dried fruits that can be found. Nine varieties in handy single serve packets that go anywhere with ease. Seven are certified organic, Dried Montmorency tart cherries are transitional-to-organic, grown with zero chemicals. Quiet Moon mix is 88% organic with 12% Montmorency tart cherries. Contain no refined sugars, sulfites, or chemical additives. All are Gluten Free, low sodium, and

kosher.
---