Organic Whole Grains & Whole Grain Flours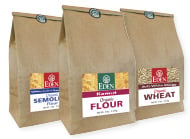 Eden announces nine new 1, 2, and 5 pound organic whole grains, plus thirteen new 2 and 5 pound organic whole grain flours; small batch, freshly milled at Eden's certified organic, AIB rated superior, Michigan mill. Great for all your cooking and baking needs.
Browse Whole Grains & Whole Grain Flours
---
Organic Dried Fruit, Nuts, Seeds, and Snacks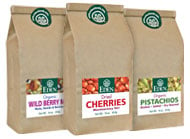 Eden announces ten new 1 pound, low sodium, sulfite and preservative free, organic dried fruits, nuts, seeds, and snack mixes. Keep on hand for school, work, home, or on the go. Include them in making desserts, pastries, breads, granola, popcorn balls, muesli, hot cereal, as a salad garnish, or whatever your imagination comes up with.
Browse Organic Dried Fruit, Nuts, Seeds, and Snacks
---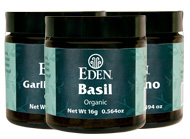 Organic EDEN spices, herbs, and vegetables are from our stocks used in the preparation of Eden foods. They are Eden qualified and selected as the "best of the best" that we can find.
---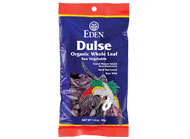 Eden Foods announces Organic Whole Leaf Dulse, an exceptionally soft crimson sea vegetable with a delicious tangy flavor. This addition to its line of quality sea vegetables, world renown for their purity, is the finest example of culinary dulse in the world.
---
29 ounce Organic Beans in BPA Free Cans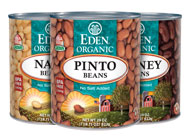 Eden Foods announces six new 29 ounce, no-salt added, U.S.A. family organic canned beans: Black Turtle Beans, Dark Red Kidney Beans, Garbanzo (chick peas), Navy Beans, Pinto Beans, and Cannellini (large white kidney) Beans. EDEN 15 ounce, 29 ounce, and 108 ounce beans come in custom, bisphenol-A (BPA) free lined cans.