Serves: 6 | Prep Time: 20 minutes | Cook Time: 20 minutes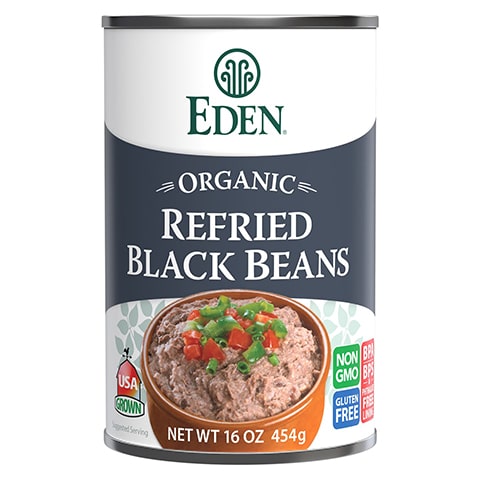 Ingredients
2 Tbsp E

den

Extra Virgin Olive Oil

1 cup onion, diced

16 ounces E

den

Refried Black Beans

1/4 cup water

1 cup organic sweet corn, fresh or frozen

1 chipolte pepper in adobo sauce

1/2 cup tofu sour cream, see Eden' recipe

6 organic whole grain flour tortillas, 8 inch

1 cup organic salsa
Directions
Preheat the oven to 350°. Heat the oil in a medium skillet and sauté the onions for 4 to 5 minutes. Add the beans, water and corn. Mix thoroughly and heat up over a medium-low flame while stirring frequently until the beans are hot.

While the beans are cooking, prepare the tofu sour cream (see Eden's recipe on the web). Chop the chipotle pepper and place in the tofu sour cream. Let sit 5 minutes.

Spoon equal amount of the bean mixture down the center of each tortilla. Top with equal amounts of tofu sour cream. Roll up the tortillas and place seam down on a lightly oiled baking dish. Pour the salsa over the tortilla. Cover and bake for 20 minutes or so until hot. Remove cover and serve.
Nutritional Information
Per serving - 263 calories, 9 gram fat (30% calories from fat), 8 gram protein, 40 gram carbohydrate, 7 gram fiber, 0 milligram cholesterol, 567 milligram sodium
Related Recipes