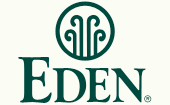 ©2016 Eden Foods, Inc.
www.edenfoods.com
Carrot Almond Soymilk
Serves 4 | Prep Time 5 minutes | Cook Time 0 minutes
Ingredients
32 ounces Edensoy Original
Edensoy Extra Original, or Edensoy Unsweetened
1 cup carrots, chopped
1/4 cup blanched almonds, remove skins, see Note:
1 pinch ground cinnamon
or ground allspice
Directions
Dry roast the blanched almonds until slightly browned. Place all ingredients in a blender and puree until smooth. Serve room temperature or chilled.

Note: To remove the almonds skins, after boiling the almonds, squeeze the almonds with your fingers after blanching and the skins slip off.
Nutritional Information
Per serving: 162 calories, 7g fat (37% calories from fat), 7g protein, 19g carbohydrate, 1g fiber, 0mg cholesterol, 98mg sodium
Related Recipes
American, Beverages, Edensoy, Good/High Protein, Low Sodium, Macrobiotic, Vegan