Serves: 14 | Prep Time: 20 minutes | Cook Time: 35 minutes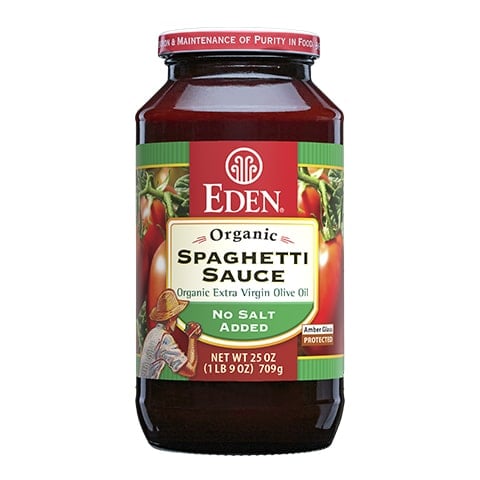 Ingredients
1 box lasagna noodles

Tofu Ricotta

2 pounds organic extra firm tofu, drained

1/2 cup water

2 Tbsp E

den

Ume Plum Vinegar

1/2 cup scallions, chopped

1 tsp E

den

Shoyu Soy Sauce, or to taste

1 package frozen chopped spinach, 10 oz., thawed, squeeze out excess water

Sauce
50 ounces E

den

No Salt Spaghetti Sauce, 2 jars
or E

den

Spaghetti Sauce - Salted
1/4 cup E

den

Extra Virgin Olive Oil

4 cloves garlic, minced

1 medium onion, diced

1 1/2 cups button mushrooms, sliced

1 cup zucchini, diced

1 tsp E

den

Shoyu Soy Sauce
Directions
Cook the pasta in a large pot of boiling water until almost done, al dente. Rinse, drain and set aside

Preheat the oven to 400°. To prepare the tofu ricotta blend the tofu, water, ume plum vinegar, scallions and shoyu in a blender until smooth. Place the tofu in a medium mixing bowl, and mix in the spinach.

To prepare the sauce, heat the oil in a large skillet or saucepan and sauté the garlic for 1 minute. Add the onions, mushrooms and zucchini. Sauté another 3 to 5 minutes. Add the sauce and shoyu. Cover and simmer for 10 minutes.

To assemble the lasagna, first lightly oil a baking dish, then place a thin layer of sauce in the baking dish. Layer cooked lasagna on top. Place another layer of sauce on top of the lasagna. Next, spread a layer of tofu ricotta on top of the sauce. Add another layer of lasagna. Repeat until you have three or four layers. The bottom layer and the top layer should always be sauce. Cover the baking dish.

Bake for 30 to 35 minutes. Remove the cover and bake another 10 minutes to brown. Remove and slice.
Nutritional Information
Per serving - 243 calories, 7 gram fat (26% calories from fat), 14 gram protein, 31 gram carbohydrate, 4 gram fiber, 0 milligram cholesterol, 323 milligram sodium
Related Recipes