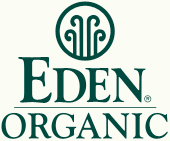 ©2013 Eden Foods, Inc.
www.edenfoods.com
Tuscan White Bean Crostini
Serves 16 | Prep Time 15 minutes | Cook Time 5 minutes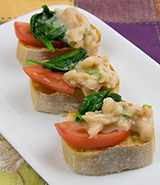 Ingredients
Directions
Drain the beans, reserving the bean cooking liquid. Set as 1/4 cup of the beans. Place remaining beans, garlic, sea salt, lemon juice and basil in a blender or food processor and pulse several seconds until creamy. Remove and pour into a serving dish. Mix in reserve whole beans.

Slice the baquette into 16 pieces and place on a baking sheet. Drizzle a little olive oil over and broil about 3 minutes until slightly brown. Remove and set aside.

Heat 1/2 tsp olive oil in a skillet and sauté the spinach for 2 to 3 minutes until wilted and dark green. Remove and place on a plate.

Place 1 or 2 spinach leaves, a slice of tomato and bean spread on each slice of bread. Arrange on a platter and serve.
Nutritional Info
Per serving: 109 Calories, 2g Fat (16% calories from fat), 4g Protein, 19g Carbohydrate, 2g Fiber, 0mg Cholesterol, 210mg Sodium
Related Recipes
Appetizer, Beans, Condiments, Good/High Fiber, Italian, Low Fat, Macrobiotic, Mediterranean, No Sweetener Added, Oils, Vegan