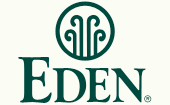 ©2015 Eden Foods, Inc.
www.edenfoods.com
Crispy Rice, Nut & Dried Fruit Bars
Serves 12 | Prep Time 30 minutes | Cook Time 7 minutes

Ingredients
Directions
Place the barley malt and maple syrup in a small saucepan and bring to a boil while stirring constantly. Reduce the flame to low and simmer for 5 to 7 minutes until the syrup thickens and drips slowly from the spoon. Place the crispy cereal, dried cherries and mixed nuts in a mixing bowl. Pour the hot syrup over the mixture and mix thoroughly to coat all ingredients. Lightly moisten a glass baking dish with cold water. With moistened hands, place the mixture in the baking dish and press it down evenly and firmly. Place the dish in the freezer for 20 to 30 minutes, allowing the syrup to harden. Remove and slice into bars or squares.

NOTE: Eden Wild Berry Mix or Quiet Moon can be substituted for the dried cherries, pumpkin seeds and tamari roasted almonds. Simply use 1/2 cup of the mix and chop the almonds and cherries

Variation: For those with nut allergies, roasted pumpkin, sesame and sunflower seeds can be substituted. Puffed organic cereals can also be substituted for crispy brown rice.
Nutritional Information
Per serving: 84 calories, 1g fat (14% calories from fat), 2g protein, 17g carbohydrate, 1g fiber, 0mg cholesterol, 45mg sodium
Related Recipes
American, Dessert & Pastry, Fruit, Low Fat, Low Sodium, Macrobiotic, Snacks, Sweeteners, Vegan, Whole Grain